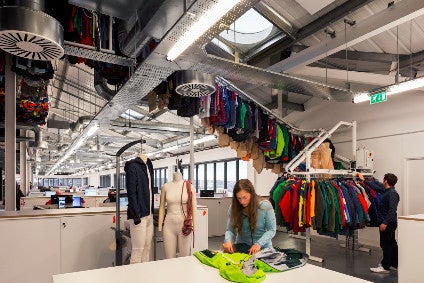 British outdoor wear specialist Berghaus is giving its clothing repair service a push as it looks to further improve the brand's environmental impact.
Berghaus, part of the Pentland Brands group of companies, is aiming to reach more consumers with its newly-branded Repairhaus service, which pledges to try and repair any damaged Berghaus clothing, footwear, pack or accessory, however old, worn or weathered.
Located at the brand's headquarters in the northeast of England, Berghaus has always offered to repair items since its founding 56 years, ago but now with Repairhaus, the company has a dedicated section on its website offering more details about the service, how to access it and its role in the brand's wider positive business programme.
"Berghaus products are built to last, but of course one of the risks of outdoor adventure is to your kit," says Berghaus brand director Charlie Pym. "As well as general wear and tear over many years, products can get damaged in a variety of ways. We've always offered the repair service and our in-house team has a treasure trove of stories about how they've helped keep much loved Berghaus kit out there in action, whether a zip finally broke after 30 years of sustained use or a pocket has needed a patch up after a decade of heavy outings.
"Repairhaus is a fundamental pillar of our positive business programme, extending the life of products for as long as possible, so that they don't need to be replaced, and reducing the potential for them ending up in landfill sites. We look at the full life cycle of kit – from MadeKid which underpins our approach to product development, manufacturing, and packaging, to Repairhaus, and through to end of life, working in partnership with the likes of Dirtbags Climbing where kit is repurposed into new and different products."
Using a form submitted through the website, the Repairhaus team makes an initial assessment of every product and provides advice on whether they think that a repair is feasible. Although consumers are asked to pay the cost of sending the product to the company, every repair that Berghaus makes is free.
If kit has come to the end of its useful life, consumers are given two options. For products that are still covered by guarantee, a like-for-like replacement will be offered. Berghaus offers to upcycle everything else and give consumers a 30% discount off a new product.
Last year, Pentland Brands unveiled its new '100-1-0′ positive business strategy, which set out three major targets to be reached by 2032:
To help 100m consumers live positive, active, sustainable lifestyles
To improve the lives of one million people in its communities
To be a net zero business by 2032