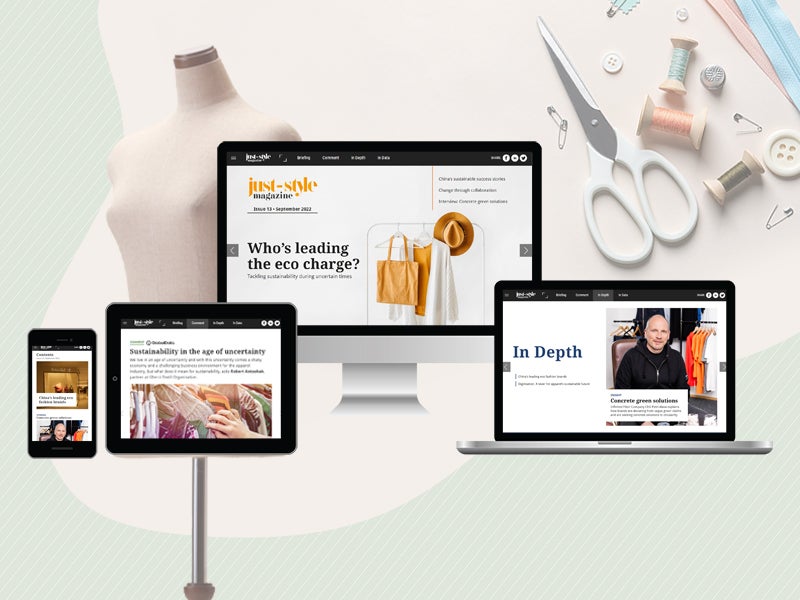 The latest issue of Just Style's digital magazine which focuses on eco-friendly initiatives and tackling climate change during an ongoing period of instability and uncertainty is out now. Read it for free online on all devices.
From rising inflation, an energy crisis and an ongoing war in Ukraine – the period of uncertainty that started with the pandemic back in 2020 is continuing to sweep across the globe.
The devastating floods in Pakistan, which is the world's fifth largest producer of cotton, only highlight why it is so incredibly important for all industries, and especially highly polluting ones such as apparel, to not drop the ball when it comes to sustainability.
In this issue Just Style explores who's leading the eco charge within the fashion industry and what we can learn from those succeeding.
An exclusive comment piece by Gherzi Textil Organisation's partner, Bob Antoshak, asks: is sustainability sustainable when considering the realities of today's economy?
Thankfully, he points out the work of NGOs hasn't slowed. If anything, he says the industry's supply chain issues over the past couple of years underscore the importance of sustainability.
Plus, Peter Needle, president at supply chain management software specialist Segura suggests environmental, social, and governance (ESG) issues are becoming critical for all companies across all industries. He highlights consumers are giving priority to products that have little to no social or environmental impact so for the apparel sector to survive it needs to address these issues head-on.
Achieving circularity continues to be a focus for the entire apparel supply chain and carbon neutral fibre regeneration tech company, Infinited Fiber Company, explains how brands are deviating from vague green claims and are seeking concrete solutions.
China is probably not the first country that springs to mind when it comes to sustainability, but environmental damage is becoming a growing concern. In this issue Just Style investigates how this change in perception has created an opportunity for fashion brands that can demonstrate sustainable manufacturing and sourcing processes.
This month, we explore all of these topics and how they're each affecting the wider apparel industry. Plus, we discuss why collaboration is key to building a greener and more prosperous future and how digitisation can be used to make apparel companies more eco-friendly.
Read the latest issue of Just Style Magazine for all this and more insights, analysis, data and interviews from the apparel industry.
You can subscribe here to receive email notifications when a new issue is available. As always, don't forget to follow us on Twitter, Facebook and LinkedIn and let us know your thoughts on this issue.