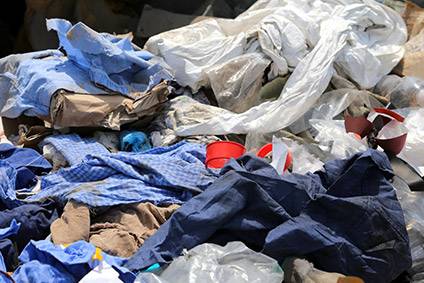 In 2018, the UK's Environmental Audit Committee (EAC) recommended, along with other measures, a producer responsibility charge to pay for better clothing collection and recycling.
The Government's response included a statement about its Resources and Waste Strategy: "We commit to take forward policy on EPR, eco-design product standards which could include requirements on micro-fibre shedding, and consumer information such as labelling."
Government policy was to review and consult on measures for five new waste streams by the end of 2025. "Textiles is one of the waste streams identified for consideration."
However, something has happened to revise this strategy. The new Environment Bill that is going through Parliament has a section on managing and separating waste.
For household collections, the identified recyclable waste streams are as follows: (a) glass; (b) metal; (c) plastic; (d) paper and card; (e) food waste; (f) garden waste. There is no mention of textiles, clothing or apparel.
It cannot be that the Government has forgotten that recycling textiles is a priority as, only recently, the UK's Interdisciplinary Circular Economy Centres were launched, including the Textiles Circularity Centre. The other centres, addressing minerals, chemicals and metals, can interface with the household collection strategy – but this is not the case for textiles.
Textile recycling industry
Arguably, there is already a textile recycling industry in the UK. Textile banks and charity shops have been sources of textile materials, and several retailers now offer takeback schemes.
However, the textile recyclers are almost entirely focused on finding markets for second-hand garments. They collect and sort textile products, and sell them on wherever they can find markets.
Mechanical processing takes some of these textiles, but quantities are small. Other markets exist for wipers, but the profit margin is very low. This is an industry in decline, because barriers confronting exported "wastes" are increasing, and much of the higher value products are donated directly to charity shops.
Extending the life of a garment can be done in many ways: by repairing faults, by designing with more durable materials and construction techniques, by selling as a second-hand product, by swapping or passing on to others or to a charity shop or textile bank. Some have the skills needed to embellish the garment – a form of upcycling. But is this the circular economy?
Understanding circularity
The key to understanding circularity is that materials are perceived as resources, and not wastes. Extending the life of a product is primarily an action advancing sustainability. To recognise circularity, we should ask what happens to the product when its second owner discards it?
At present, items deemed worthless are placed in a bin for general waste. Textile materials become soiled very easily, and they end up in landfill or in incineration. Consequently, consumers do not recognise unwanted textiles as resources.
There are numerous examples of mechanical processing to recover fibres, which can then be fabricated into new products – such as felts to absorb sound and to provide insulation. There are examples of commercial garments that fully or partly incorporate recycled fibres.
However, these are all niche products for specialised markets and they do not have potential for addressing the mountain of textile wastes. They have a second life as alternative products, but are then disposed as wastes. How is it possible to convince consumers that textile materials can be a resource, and are worthy of disposing separately from the general waste?
EU-funded Resyntex project
There are a growing number of projects that have either set out to answer this question, or are intending to demonstrate the circular economy in textiles. There are several pilot plants for chemical processing in the UK, in Europe (Sweden, Finland, Slovenia), in the US and in Hong Kong.
In most of these plants, the goal is fibre-to-fibre recycling. As textile dyes are usually chemically active, progress has been slow. Often, the plant can handle undyed fibres but not consumer-waste textiles. Some work only with cotton; others limit the textile input to cotton and polyester fibres.
I was involved with the EU-funded Resyntex project, which took a much broader brush approach to the challenges facing circularity in textiles. Our target was to find a way of processing cellulosic, protein, polyester and polyamide fibres (over 95% of the waste mountain).
We used enzyme chemistry to depolymerise the fibres – but we did not attempt to make new fibres. Rather, the aim was to make commodity feedstock products. This meant that the outputs had a value based on global markets, and as the markets changed with time, so the feedstocks produced could also be changed in response.
This concept leads to industrial symbiosis. The waste materials from one sector can be resources for other industrial sectors, and industries can collaborate to maximise the benefits and achieve commercial viability.
The most successful route involved protein fibres, which could be turned into an adhesive for laminating wood and forming chipboard. The only major problem was one of availability of materials: one which could be greatly helped by utilising household collections of textiles and automated sorting.
During the course of the Resyntex project, it was apparent that apparel retailers and their suppliers were more interested in fibre-to-fibre recycling.
My response to this was to remind them that new fibres have a gestation time longer than the four-year Resyntex project!
But what Resyntex would do was to debut a system that could then implement a fibre-to-fibre project. Recycled cellulosic fibres are of particular interest, as the environmental impact of growing cotton is substantial.
The EU plans to implement household collections of textiles by 2025. At present, there is no clear idea of what to do with these textiles after they are collected.
The Resyntex project has shown that technologies are in place to implement circularity. What we need from governments now is a strategy for launching national collections of the materials and encouragements to invest in the plant needed to mine this mountain.
About the author: David Tyler is Professor of Fashion Technologies at the Manchester Fashion Institute, Manchester Metropolitan University.