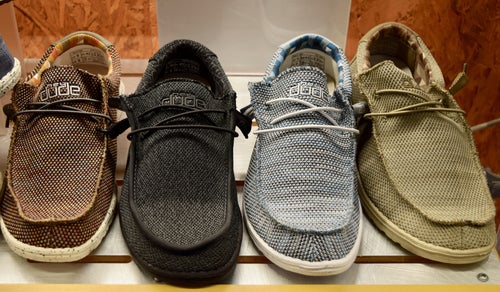 Crocs, Inc., which specialises in casual footwear for women, men, and children said in a statement that it is adding the casual and comfortable footwear brand, Heydude, to its portfolio as it believes it is aligned to long-term consumer trends for casual footwear and will be a perfect fit for Crocs.
CNBC reported yesterday, however, that some investors are not seeing the appeal in the multibillion-dollar deal to buy the casual shoemaker Heydude with shares tumbling 12% shortly after the news was announced on 23 December.
Crocs CEO Andrew Rees defended the move in an interview on CNBC. He said: "We think a great way to diversify and provide a little bit more security to our investors is to not diversify away from the iconic clog within Crocs, but to add another brand, which has its own icon. And that provides, we think, a tremendous diversification and a really compelling reason for us to acquire this brand."
Crocs executive vice president and chief financial officer, Anne Mehlman pointed out in the official statement when the acquisition was first announced that Heydude has experienced incredible growth in revenue and profits over the past few years.
She said: "Heydude is expected to be immediately accretive to our high revenue growth, industry-leading operating margins and earnings. We expect the combined business to generate significant free cash flow, enabling us to quickly deleverage while investing to support future growth. We are excited about the combination and are confident in our ability to deliver long-term shareholder value."
Crocs CEO Andrew Rees added: "With the acquisition of Heydude, we are thrilled to add another high-growth, highly profitable brand to our portfolio."
He explained: "We intend to leverage our global presence, best-in-class marketing and scale infrastructure to build upon Heydude's strong foundation and create significant shareholder value. We truly admire the business that founder Alessandro Rosano has built and are honoured to welcome the Heydude team to Crocs."
While, Heydude founder and CEO, Alessandro Rosano said: "We founded Heydude in Italy in 2008, to develop comfortable, versatile and accessible footwear. We are proud of the brand we built and are honoured to become a part of Crocs, a company perfectly positioned to take Heydude to the next level. We have long admired the Crocs business and are excited to have them bring Heydude's comfort, craftsmanship, and style to consumers globally."
The purchase price of $2.5bn, subject to customary closing adjustments, will be funded by $2.05bn in cash and $450m in Crocs shares issued to Rosano based on the average of the daily volume-weighted average price of Crocs stock for the 20 days immediately prior to the signing date.
The transaction is expected to close in the first quarter of 2022, subject to customary closing conditions and regulatory approval.
Upon completion, Heydude will operate as a standalone division with Heydude's founder continuing to lead product development as strategic advisor and creative director. As part of this transaction, Rick Blackshaw was hired to join Heydude as executive vice president and brand president. He most recently served as the CEO at CCM Hockey and will be a member of the Crocs Executive Leadership Team and report to CEO Andrew Rees.