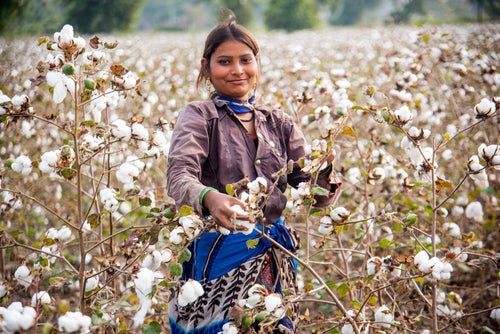 Better Cotton, which describes itself as a leading sustainability initiative for cotton has expanded its membership network in 2022 with a number of leading apparel brands and retailers and two of India's civil society organisations – the Development Agency for Poor Tribal Awakening (DAPTA), and the Centre for Advanced Research and Development (CARD).
Better Cotton's membership network is said to span the entire cotton sector and beyond, and it works with organisations all the way from farm to fashion.
Its latest recruits feature 192 members from 31 countries which breakdown into 44 retailers and brands, 146 suppliers and manufacturers and two civil society organisations.
The new apparel brands and retailers to join include Macy's Merchandising Group, JCPenney, Oliver Bonas, Fruit of the Loom Inc., Garan, Tillys and Duluth Trading Company.
Better Cotton is delighted that two new civil society organisations based in India also made the decision to join this year.
Better Cotton pointed out: "Joining Better Cotton offers civil society organisations the opportunity to play a decisive role in securing a more sustainable future for global cotton production. Many of our civil society members are also programme partners, working directly with farmers and farming communities to build their capacity to adopt more sustainable practices. Together, we work to scale innovations to help transform farming systems and the sector for good."
Better Cotton's membership and supply chain director, Paula Lum, added: "Collaboration and joined up action are key to driving change at scale. At Better Cotton, we welcome any civil society organisation serving the common good and with an interest in the cotton sector to join our initiative and contribute to our journey towards sustainable cotton."
Both civil society organisations are excited to be part of Better Cotton. DAPTA explained: "Our objective is to enhance farmers' income and increase the resilience of farming families, which aligns closely with the Better Cotton mission. We look forward to partnering with Better Cotton and working together to improve conditions for cotton farmers in India."
CARD is also pleased to be a new Better Cotton member and believes it will help the organisation to meet its ambitious goals in supporting cotton farmers and farming communities.
CARD said: "In the coming years, we seek to showcase models for better soil, water and pest management, as well as engage farming communities in planning for long-term water sustainability. We also want to achieve a steady and sustainable increase in farmers' incomes through a package of better practices that are beneficial for farmers and the environment. Through our efforts, we hope to open a window to the international cotton market for smallholder farmers."
Better Cotton made up around 20% of global cotton production in 2021, a 25% fall on the 2019-20 season on the back of challenges, including weather variations, market conditions and socio-political issues.
Earlier this year Better Cotton's chief operating officer, Lena Staafgard, spoke to Just Style exclusively about the company's 2030 strategy, why soil health is so important, and the future of its Better Cotton Growth and Innovation Fund.