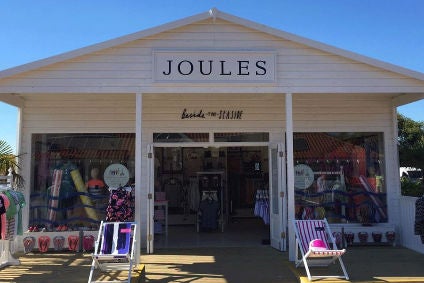 In a bourse disclosure, Joules said it is in talks with strategic investors, including its founder Tom Joules, as it considers options for an equity raise.
In its latest update, Joules said trading in the 11 weeks to 30 October was "below expectations" on the back of a challenging UK economic environment, which the retailer said dampened consumer confidence and impacted disposable income.
Retail eCommerce sales were behind expectations for the period on the back of softer eCommerce traffic, though some stores were slightly ahead of expectations.
Joules said retail margins benefitted from the positive impact of the group's improved pricing and delivery proposition, however, this has been offset by the high levels of promotional activity across the market, leaving overall retail margin performance slightly behind expectations.
At the end of September Joules moved to assure audiences its turnaround plan was going well in the wake of media speculation it was working with advisory firms on an insolvency plan.
Earlier in the month the group said it was continuing to assess its ongoing financing requirements, including a possible equity raise, to allow the company to strengthen its balance sheet.
In its latest update, Joules said it has now advanced discussions with a number of strategic investors, including Tom Joule, to provide a cornerstone investment in an equity raise.
"Furthermore, the group is continuing to progress alternative options with the assistance of Interpath Advisory, including CVA planning, in conjunction with the equity raise referred to above. It is the group's intention to commence consultation with key stakeholders, including suppliers, on the turnaround plan including potential alternative options, should they be required.
"The company also remains in discussions with its lender in relation to a waiver of certain financial covenants in its existing facilities and on its medium-term financing, including a review of covenants, to support the turnaround plan. The company is currently in discussions with Tom Joule and its lender in regard to a bridge financing proposal in order to enable continued progress to be made with the re-financing plans referred to above. 
Getting back on track
Emily Salter, senior apparel analyst for GlobalData, says it is unsurprising Joules is exiting the EU and US, especially the EU given the additional costs and administration associated with operating in the EU.
"Joules' recent troubles are in stark contrast to its pre-pandemic performance, as it always outperformed the UK clothing & footwear market due to its loyal shopper base and distinctive product handwriting, but frequent discounting has damaged its brand equity. If Joules can get out of the cycle of discounting then there is a way ahead for it – especially as its core shoppers are better protected from the cost-of-living crisis. However, the fact that it is more reliant on categories such as outerwear and wellies means that it is at the mercy of the unpredictable UK weather.
"An equity raise would help Joules in the short-term with its balance sheet, but it needs to make sure that it focuses on developing a long-term strategy to get back on track and boost its appeal among shoppers yet again.
In August Joules announced former John Lewis executive Jonathon Brown as its new CEO to succeed Nick Jones who stepped down from the role at the end of September.