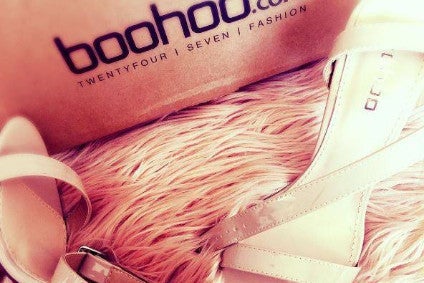 Skills training provider and manufacturer Fashion-Enter is to benefit from a GBP85,000 award as part of an apprenticeship levy which will see it provide training and arrange placements for its students on behalf of Boohoo Group.
The scheme will focus on candidates from underrepresented communities within the Leicestershire area.
Boohoo Group says it is passionate about educating the next generation, working to empower individuals to support and protect the future of the UK manufacturing sector and its unique skill base. As a major UK employer, Boohoo says it pays a "significant" apprenticeship levy and wanted to use it not just to empower its own employees, but those within the wider supply chain who might otherwise not have access to this kind of training courses and opportunities.
"We are delighted to be partnering with Fashion-Enter and to be able to utilise some of our apprenticeship levy outside of the business to create opportunities for individuals who might otherwise not have had access," says Andrew Reaney, Boohoo director of responsible sourcing and product operations. "We have a long-standing partnership with our Leicester suppliers and activities like this cement our commitment to both them and UK manufacturing in general."
Boohoo's partnership with Fashion-Enter comes after production kicked off at its first manufacturing site last week, with the retailer noting the hub will also be used as a training facility for product teams across its brands. Boohoo Group says the new 23,000 sq ft factory on Thurmaston Lane is "proof of its commitment to the city of Leicester and ethical British manufacturing."
Boohoo Group found itself embroiled in a media storm in 2020 regarding its supplier factories in Leicester, which were alleged to be underpaying workers and making them work in unsafe conditions.
Since then the online fast-fashion giant has been taking steps to repair its reputation, including publishing its international factory list detailing 1,100 factories and appointing Kirsty Britz to its board as non-executive director in a move it said at the time of her appointment bolsters its expertise in areas of Environmental, Social and Governance (ESG) matters.
It also recently supported a new UK initiative to address the immediate and future needs of workers within the local garment industry. Boohoo donated GBP1.1m to the Leicester Garment and Textile Workers Trust which launched in October.
Fashion-Enter, meanwhile, recently partnered with Leicester City Council on a new textiles skills centre called The Fashion Technology Academy (FCFTA Leicester). The academy offers apprenticeships and accredited training for people who work in, or want to work in, the textiles industry.
"We are delighted to be receiving this gift from the Boohoo Group. The FCFTA (Leicester) has had an excellent start and currently, we are focusing on qualifications at level 1 and 2; this funding will now create higher-level skills and engage in jobs with the local factories. We have already received an enquiry from one company requesting ten sewing apprentices so this is superb timing," says CEO of Fashion-Enter, Jenny Holloway.
The application process opens today (7 February), the first day of National Apprenticeship Week. Applicants can apply for either a level 3 Fashion Studio Assistant course or a level 4 Product Technologists' course via Fashion-Enter.