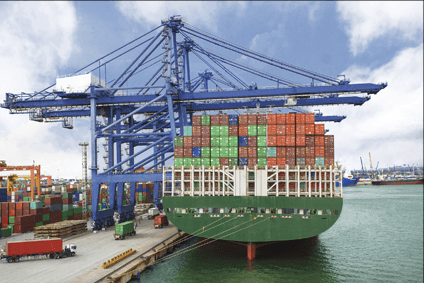 Essential US port workers should be given priority during the rollout of the coronavirus vaccine to protect vital supply chains, according to a group representing apparel and footwear importers and retailers.
Letters sent by the American Apparel & Footwear Association (AAFA) to President Biden, states, localities and California point out that "the workers managing our port infrastructure are critical for delivering medical supplies to healthcare workers, food to grocery stores, and other essential products to the American people.
"For our industry, virtually all our product, including critical personal protective equipment (PPE) such as face masks and surgical gowns, enter through the nation's ports," it adds.
The letters come as US port congestion is at unprecedented levels due to a confluence of factors created by the pandemic and the resulting economic uncertainty. These delays have been exacerbated by severe worker shortages due to Covid-19 outbreaks among port workers.
"Further port congestion would be disastrous, not only for the communities around the country, and our industry, but also for the entire nation, which relies upon the vital flow of goods through the nation's ports," says AAFA president and CEO Steve Lamar.
"While the employers and unions at ports around the country have worked to prevent further spread of Covid, a significant amount of damage has already been done. We respectfully encourage you to consider the public health and economic importance of moving port workers into a higher tier for vaccine prioritisation by classifying them as essential workers."
Separately, AAFA has urged the US Federal Maritime Commission (FMC) to take action over a spike in contract violations and detention and demurrage charges hitting apparel and footwear retailers, brands and importers.
The concerns come amid wider worries about how Logistics bottlenecks pose major problems for clothing supply chains.