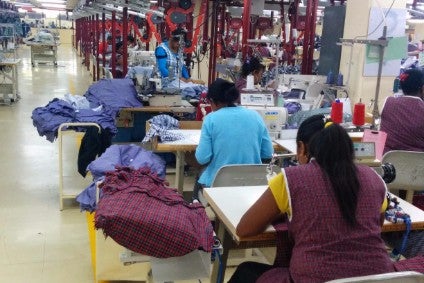 Unions are fighting for migrant workers to enjoy the same rights as Mauritian workers in the country's textile and garment sector supply chain.
The Indian Ocean island nation hosts more than 45,000 migrant workers, according to the IndustriAll global union, with violations including exploitation by recruitment agencies in the countries of origin, like Bangladesh, Madagascar, Nepal and India.
On arrival in Mauritius, workers are paid low wages, work long hours, live in squalid conditions sometimes in dormitories behind factories, and risk deportation when standing up against the violations, the union says.
It adds: "The labour and human rights violations against the migrant workers can be described as modern slavery," and were discussed at a workshop organised last month by IndustriAll with support from the German political foundation Friedrich Ebert Stiftung.
Participants were from unions in Bangladesh, Madagascar and Mauritius. Ovibashi Karmi Unnayan Programme (OKUP), a civil society organisation that carries out pre-departure training for Bangladeshi workers going to work in other countries, also took part.
UK-based online fashion retailer ASOS, which has signed a Global Framework Agreement with IndustriAll and whose suppliers employ over 3,000 workers in Mauritius, says it wants working conditions to improve and debt bondage to end.
Debt bondage is a result of the fees, sometimes as much as US$800, charged by recruitment agencies, that can take workers more than 14 months to pay. Asos also says workers should not pay the cost for travelling to the country of destination, or for training.
The fashion retailer was the first e-commerce brand to sign a Global Framework Agreement (GFA) with IndustriAll to protect the rights of workers who manufacture its own-brand products around the world, and also hosted an event in Mauritius last year to discuss the challenges in managing labour migration and try to agree a common framework for improving worker protection in Mauritius and beyond.
"The global framework agreement with Asos will be key to begin to develop sound industrial relations with Mauritian textile and garment suppliers," explains Christina Hajagos-Clausen, IndustriAll director for the textile and garment industry. "Building sound industrial relations will help curtail labour rights violations."
Fight against exploitation
IndustriAll affiliate, Confederation des Travailleurs Secteurs et Prive (CTSP), represents over 50,000 workers and is leading the fight against the exploitation.
It also wants to see the payment of the national minimum wage of MUR9,400 (US$271) to migrant workers.
The affiliates from Madagascar, Federation des Syndicats des Enterprises Franches et Textiles (FISEMA) and Sendika Kristanina Malagasy (SEKRIMA) and Syndicalisme et Vie des Societies (SVS), as well as a Bangladeshi affiliate, Sommilito Garments Sramik Federation, support the work of the CTSP.
"We are fighting for migrant workers to enjoy the same rights as Mauritian workers under the Employment Rights Act. This will help to stop unfair dismissals and protect their rights to collective bargaining," says CTSP president, Reeaz Chutto.
Also adding its support to stop the violations is Anti-Slavery International (ASI), which campaigns to protect workers against slavery and human trafficking and supports the Employer Pays Principle, where employers pay for travel and other costs of migrant workers.
Other participants were from the International Organization for Migration and the University of Mauritius. The Confederation of Mauritius Business and the ministry of labour also attended and said they supported social dialogue and better industrial relations.
An Anti-Slavery International project with IndustriAll, Asos, OKUP and CTSP aims to end modern slavery in the supply chain by promoting pre-departure training; developing a smartphone app for Mauritius modelled on the IndustriAll/Asos Workers' Rights app currently being used in Turkey, that will explain migrant workers' rights; and a trade union-based support centre to be based at CTSP where workers can go for support on complaints and grievances. The centre will assist workers in Bangla – the language of the Bangladeshi workers who constitute most of the workers.
Despite efforts to crack down on modern slavery in supply chains, some 24.9m people remain trapped in forced labour worldwide. Yet there are a number of red flags that brands and retailers should be aware of – as well as steps they can take to mitigate the problem: Red flags for modern slavery in fashion supply chains.