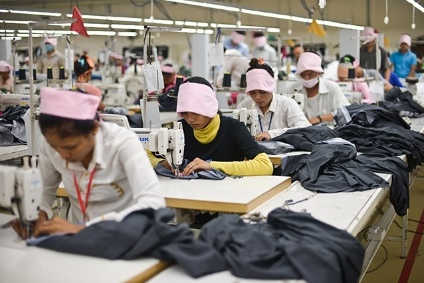 The European Parliament has passed a resolution calling for the temporary suspension of Cambodia's preferential Everything But Arms (EBA) duty-free trade access over claims the country is violating its obligations under the agreement.
Parliamentarians last week called on the European Commission and European External Action Service (EEAS) to review Cambodia's obligations under conventions in Article 19 of the EBA regulation. They emphasise that "if Cambodia is acting in violation of its obligation under the EBA regulation, the tariff preferences it currently enjoys must be temporarily withdrawn."
Their concerns follow a government crackdown on the main opposition party, with a ruling last month from Cambodia's Supreme Court to dissolve the opposition Cambodian National Rescue Party (CNRP) and ban 118 of its members from politics for five years.
The European Parliament resolution also calls on the EEAS and the Commission to prepare a list of individuals responsible for the dissolution of the opposition and other serious human rights violations in Cambodia, with a view to imposing possible visa restrictions and asset freezes on them.
If passed, the move could have serious consequences for the country, which sells nearly half of its exports to the EU, primarily garments and footwear.
Thanks to the EBA duty-free access, the European Union (EU) is the most important market for Cambodia's garment exports, accounting for around 45% of the total – which grew 5.4% year-on-year to US$3.3bn in the first six months of 2017. As a whole, Cambodia's garment and footwear sector is worth US$6.8bn and accounts for 80% of its total exports.
Concerns about the ongoing crackdown in Cambodia have already seen the US impose visa restrictions on officials involved in "undermining democracy." And, together with the EU, it has withdrawn funding for the National Election Committee.
EU lawmaker, Charles Tannock, told the Parliament last week: "The people of Cambodia, after the genocidal Khmer Rouge regime last century deserve democracy, they deserve better, they deserve an independent an impartial judiciary, credible and transparent elections are vital to the health of the nation and the legitimacy of its government."
Earlier this month the Garment Manufacturers Association in Cambodia (GMAC), which represents around 600 factories employing 700,000 workers, sought to reassure foreign buyers that the current political situation will "not be translated into any actions bearing negative impacts on the daily production and supply chain of the industry."
Cambodia's Senate, meanwhile, is understood to have hit back at the EU resolution, saying it is "partial, unfair and does not reflect the truth in Cambodia," and interferes with Cambodia's internal affairs. It has appealed to the EU to "reconsider and not do anything that can affect the progress of Cambodia."