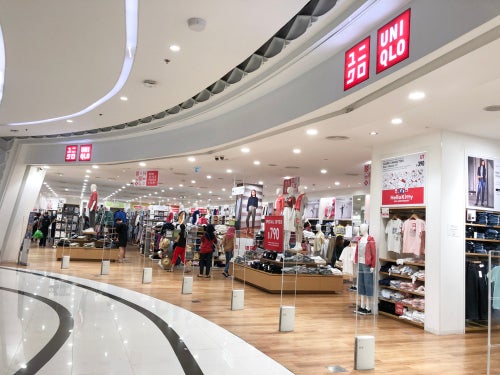 Profit before taxes for the full year at Fast Retailing (12 months from 1 September 2021 to 31 August 2022) grew 55.6% to JPY413.6bn (US$2.8bn), the retailer revealed in its results announcement.
Divisionally, Uniqlo Japan reported a decline in revenue but an increase in profit in fiscal 2022, with revenue down 3.8% year-on-year to JPY810.2bn and operating profit up 0.6% to JPY124.0bn.
The Gu division reported a decline in revenue and a sharp dip in profits in fiscal 2022, with revenue down 1.4% year-on-year to JPY246.0bn and operating profit down 17.4% year-on-year to JPY16.6bn.
Meanwhile, Uniqlo International recorded significant increases in both revenue and profit in fiscal 2022, with revenue up 20.3% year-on-year to JPY1.1 trillion yen and operating profit expanding 42.4% year-on-year to JPY158.3bn yen.
Fast Retailing explained: "Sales recovered steadily in all markets in which we operate thanks to a steady recovery in demand for clothing now that the pandemic is being brought under control, as well as our continued efforts to strengthen global branding for LifeWear ultimate everyday wear and our ability to mount an agile response to changes in production and distribution environments. Furthermore, profit still reached a record level even after stripping out the foreign currency impact."
The company also stated it remains determined to strengthen its initiatives that are designed to expand its business operations and promote sustainability in order to become a global number one brand. It plans to do this by:
Creating customer-oriented products
Accelerating global store openings
Building purchasing experiences that fuse physical stores and e-commerce
Helping to solve various environmental and social issues.
Fast Retailing's fiscal 2023 outlook
In fiscal 2023, the Fast Retailing Group expects to achieve consolidated revenue that will be up 15.2% year-on-year to JPY2.7 trillion yen, but predicts profit before income taxes will be down 15.4% to JPY350.0bn and profit attributable to owners of the parent will be down 15.9% year-on-year to JPY230.0bn.
The company explained it is predicting a year-on-year decline in profit attributable to owners of the parent in fiscal 2023 compared to fiscal 2022 when it recorded a JPY114.3bn yen foreign exchange gain on foreign-currency denominated assets. However, that profit measure is expected to increase year-on-year if it strips out the foreign exchange impact.
Fast Retailing said: "The year ending 31 August 2023 will be the year in which we aim to aggressively transform our business structure and create a solid foundation as a global number one brand. While the business environment continues to be severe in light of progressive inflation and the rapid depreciation of the yen, we are determined to accelerate our efforts to address the following four priority areas and
produce steady results:
Realise business that meets customer needs and encourage empathy towards the value we value
Promote the globalisation of our headquarters so we can earn profits worldwide
Accelerate sustainability initiatives in tandem with our business development
Emphasise productivity and firmly implement low-cost management in an inflationary environment.
The company plans to accelerate new store openings in fiscal 2023, especially at Uniqlo International. It forecasts the Fast Retailing Group network will boast a total of 3,747 stores by the end of August 2023: 809 stores (including franchise stores) at Uniqlo Japan, 1,740 stores at Uniqlo International, 469 stores at Gu, and 729 stores at Global Brands (including franchise stores).
Analyst reaction: Fast Retailing's record fiscal 2022 results thanks to global operations
GlobalData apparel analyst Louise Deglise-Favre explained: "Despite continuing to be held back by its home market of Japan, Fast Retailing reported annual revenue growth of 7.9% (JPY168bn) in FY2021/22 thanks to its international operations."
"Indeed," she said, "Uniqlo International sales rose 20.3%, thanks in part to the weakness of the yen boosting revenue in foreign currency, but also as a result of a successful marketing push which helped it to strengthen its brand identity and capture new customers. In contrast, both Uniqlo Japan and GU reported sales declines of 3.8% and 1.4% respectively due to being unable to meet consumer demand in the first half of the year, as a result of supply chain delays and product shortages. While sales returned to growth in H2, this was not enough to compensate for the poor performance in the region in the first half of the year."
She continued: "Growth in international markets was driven by both the South East Asia and Oceania region and the Europe and North America region, growing 52.1% and 39.3% respectively, thanks to brand expansion. In Europe in particular, its LifeWear proposition resonated well, as consumers seek to invest in long-lasting good-quality pieces at reasonable prices rather than quick-fading fashion trends, and its new flagships in key cities performed strongly and helped raise more brand awareness. Unsurprisingly, Greater China saw very muted growth of 1.2% due to COVID-19 lockdowns plaguing the region for much of the year. Fast Retailing reported that sales in Greater China accelerated in Q4 though, which bodes well for the year ahead, which will hopefully be free of lockdowns and allow the region to perform at its full potential.
Deglise-Favre added that in FY2022/23, Fast Retailing hopes to grow its revenue by 15.2%, and it plans to continue expanding its Uniqlo International segment, with new stores opening in most regions but especially in South East Asia and Oceania.
She said: "The group is sure to face some challenges in Europe and North America, which are both facing tough macroeconomic climates, with Europe particularly in the midst of a severe cost of living crisis. However, Uniqlo's unique HEATTECH range might help give it a competitive advantage in the region this winter as consumers look to save on rising energy bills by wearing warmer garments."
In July Fast Retailing recorded a 3.9% rise in sales for the first nine months of the year and a 57% year-on-year jump in profit to JPY237.8bn (US$1.71bn).