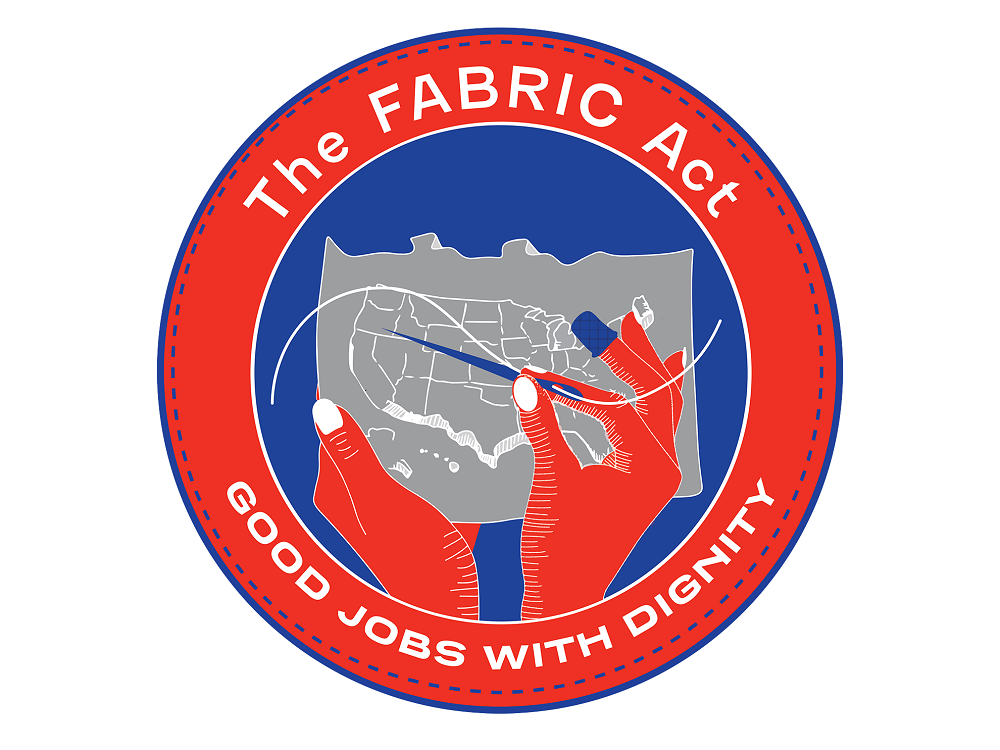 The US Fashioning Accountability and Building Real Institutional Change (FABRIC) Act of 2022 was introduced to the House of Representatives less than three months after the bill's Senate introduction. However ReMake is keen to grow its support and has created a petition for brands and organisations to sign from anywhere in the world.
Congresswoman Carolyn B. Maloney (NY-12) introduced the US FABRIC Act last Thursday (21 July), which addresses the exploitation of garment workers while creating US$40m investments in apparel manufacturing, with the goal of cementing the US as a centre of responsible apparel production. It was co-led by Debbie Dingell, a Michigan House Representative, and North Carolina's Deborah Ross.
Maloney explained the FABRIC Act of 2022 will establish a nationwide garment industry registry in the Department of Labor to increase oversight and transparency within the industry, put forth requirements to hold both fashion brands and retailers along with their manufacturing partners jointly accountable for workplace wage violations, set an hourly pay in the garment industry, and eliminate piece rate pay in workplaces in which workers are not already paid a minimum wage or are covered by a union collective bargaining agreement.
She also pointed out the bill would create the US$40m Domestic Garment Manufacturing Support Program and establish a 30% reshoring tax credit for garment manufacturers that move their manufacturing operations to the United States.
She said: "I have long been a champion for the New York and American fashion and apparel industries because of their immense economic and cultural benefits to our City and our nation. But all too often the workers are exploited and wages are too low for people to make a living. Cementing the United States as the global leader in manufacturing apparel responsibly by putting forth worker safeguards, increased oversight and transparency of the industry, and creating incentives to bring jobs back to the US will have positive impacts on our nation's economy and commitment to the American worker for generations to come."
Dingell added: "Every worker in this country deserves fundamental rights and protections and the garment industry is no exception. The FABRIC Act will ensure that we follow through on our commitment to dignity in the workplace by establishing additional safeguards and standards for garment workers, increase transparency and accountability, and develop incentives to ensure that these products are made in the United States. We have a duty to deliver for the hard-working men and women that drive our country forward every day and this legislation is one step in ensuring that the United States remains a leader in responsible manufacturing."
Petition for brands and organisations to show support for US Fabric Act 2022
Remake's director of advocacy and policy, Elizabeth Cline explained: "Our community has flooded the switchboards in Congress asking them to get the FABRIC Act moving forward. We applaud Representatives Maloney, Dingell and Ross for prioritising fashion's female workforce and for seeing the opportunity in this ground-breaking bill to create a fashion industry that's responsible, sustainable and transparent and to influence policy on a global level. Our voices were heard."
Remake CEO Ayesha Barenblat added: "We welcome the House introduction of the FABRIC Act and ask more congressmen and women on both sides of the aisle to support this bill that will rebuild American manufacturing with good paying jobs and restore dignity to the apparel sector."
ReMake's public petition has launched on the official FABRIC website to give supporters around the world another way to support the bill.
ReMake explains the pandemic devastated the apparel industry and its essential workforce, who are largely women. It says many factories are still struggling to invest in the future, while garment workers are often struggling to find decent-paying factory work.
The organisation says: "The time is now to rethink and rebuild the fashion industry around accountability and sustainability. With the future of fashion riding on this groundbreaking piece of legislation, time's ticking to protect the 100,000-plus dignified apparel jobs in America and cement the US as a leader in responsible fashion production."
Brands and organisations located anywhere in the world can endorse the official FABRIC Act site by filling out this form.
A number of brands and organisations have already shown their support for the FABRIC Act on its official website, such as ACACIA, Mara Hoffman, ThredUp and Fashion Revolution.
When Senator Kirsten Gillibrand first introduced the FABRIC Act, in May she said it would reinvigorate the US garment industry, strengthen workers' rights, drive wage growth, and promote equity.
Click here to find out the three main reasons why the US garment manufacturing sector urgently needs the new legislation.
—