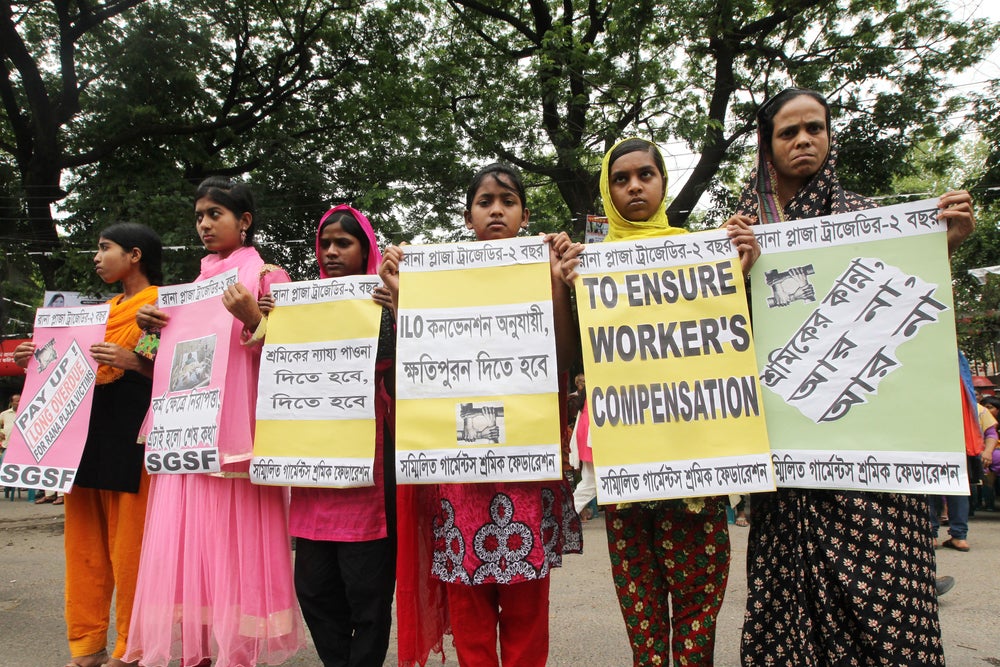 Next week (24 April) marks ten years since the Rana Plaza garment factory collapse in Bangladesh which has led to major safety reforms, however IndustriAll Global Union and UNI Global Union argue more fashion brands still need to sign the International Accord to safeguard worker safety in Bangladesh, Pakistan and beyond.
IndustriAll explains that currently 194 brands and retailers are signed on to the accord, which covers around 2.4 million workers in Bangladesh, and 46 brands and retailers have so far signed the Pakistan accord, which will include 750,000 workers in that country once the inspection programme is implemented.
However, it states: "There are notable exceptions of brands who must take greater responsibility for worker safety in their supply chain – particularly US companies like Levi Strauss, Gap, Walmart and Amazon who have refused to sign the accord."
It continues: "The sign-on of brands like these will protect more garment and textile workers from dangerous conditions and will strengthen the push for the accord's renewal as it is set to expire in October 2023."
Amazon told Just Style it did not have a comment and Just Style had not received responses from Gap or Walmart ahead of going to press, however a Levi Strauss spokesperson told us exclusively:
"At LS&Co., we believe that workers who make our products should work in a safe and healthy environment and be treated with dignity and respect. We have therefore long been invested in strengthening safety policies across our supply chain, and we investigate any and all reports of violations of our supplier code of conduct.
"In Bangladesh in particular, we have established a record of worker safety practices that began and was being implemented long before the International Accord was created, including the establishment of a comprehensive programme for building, electrical and fire safety that addresses the components of the International Accord and has served as a model for our international programmes."
The spokesperson aoutlines a number of initiatives Levi Strauss has carried out both before and after the Rana Plaza disaster, such as being the first apparel brand to audit factories in 1991, with the launch of Terms of Engagement (TOE) and four years before the Rana Plaza collapse Levi Strauss had banned all sourcing from suppliers operating in multi-owner buildings, where safety standards are difficult to enforce.
The spokesperson adds: "Because of our policies, we had no sourcing in Rana Plaza or buildings like it, and we still do not."
The Accord for Fire and Building Safety in Bangladesh
The Accord for Fire and Building Safety in Bangladesh was initially signed on 15 May 2013 between UNI Global Union, IndustriAll Global Union, eight Bangladeshi trade unions and 40 brands. More than 220 global brands and retailers had signed the Bangladesh Accord by 2018.
IndustriAll explains that to date, there have been nearly 56,000 inspections safety inspections across over 2,400 garment factories in Bangladesh. More than 140,000 safety instances corrected, and the total remediation progress rate across the factories currently covered Accord is 91%.
According to the Clean Clothes Campaign, since its launch, over 90% of all found safety hazards at covered factories have been eliminated, making factories safer for over two million workers. Additionally, 1.8 million workers have enjoyed safety trainings and over 1,700 health and safety complaints have been filed to the complaint mechanism.
However, IndustriAll general secretary Atle Høie argues: "Although significant progress in Bangladesh's garment industry has been made, safe factories still need to be fought for."
On 14 December 2022, the Pakistan Accord was announced by signatory brands and unions as the first country in addition to Bangladesh where the International Accord model will operate.
In February, the International Safety Accord for Pakistan had secured 33 signatories just one month since its opening for new members, with Primark, Next plc, Asos and C&A the latest brands to sign up.