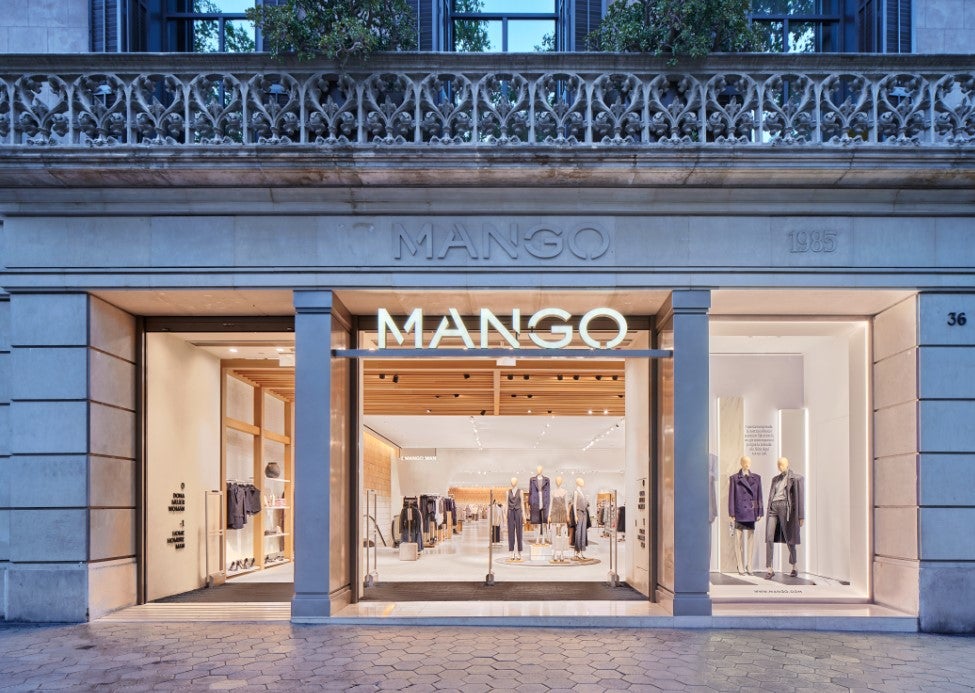 Mango says its new Sustainable Vision 2030 road map is based on its commitment to product, planet and people and it is updating its policies and commitments to match what it describes as the most commonly-used international standards in the sector.
How Mango is updating its measuring systems to hold itself accountable
Mango plans to achieve its targets by using…
The Sustainable Apparel Coalition (SAC) international alliance metrics for its activity as a whole
The Environmental Impact Measuring (EIM) Score of Spanish company Jeanología to calculate the impact of its denim and work towards reducing the consumption of water in its processes
The standard and guidelines of the Zero Discharge of Hazardous Chemicals (ZDHC) initiative to minimise the use of hazardous chemicals throughout the supply chain
The greenhouse gas GHG Protocol
The recommendations of the Science-Based Targets Initiative (SBTi) to calculate its carbon footprint.
Plus, all garments designed with circularity criteria will be reviewed by the Mango Circularity Department and garments produced as part of its greater durability strategy will be analysed and certified by the Spanish textile laboratory Aitex.
By the end of this year (2022) Mango also plans to become the first fashion retailer to publish its tier 3 factories list as part of its plan to boost transparency and increase its accountability. The retailer says the listings will be related to suppliers of fabrics and fittings and it hopes this will aid its efforts to promote the welfare of workers in its supply chain.
Mango's CEO Toni Ruiz says: "The new sustainability strategy is not merely a goal to be fulfilled, but a cross-departmental core value of our company strategy and business model that influences our decision making and the promotion of projects and actions, so that we can carry out our activities with the lowest environmental and social impact possible."
Mango's director of global sustainability and sourcing Andrés Fernández adds: "The Sustainable Vision 2030 aims to guide Mango in the next phase of its journey towards a more sustainable and more committed clothing industry."
The retailer wants to focus on creating a more sustainable clothing collection, which means prioritising materials with a lower environmental impact and incorporating circular design criteria.
In fact, Mango states that by 2030 it will ensure the design of its products and all its fibres will be of sustainable origin or recycled.
The company is also progressively replacing the 'committed' label on its garments with a quick response (QR) code in advance of legislative requirements. It will redirect consumers to its website with information on the composition and design and production location of its products.
Mango's wider aim is to be climate neutral by 2050. It also hopes to achieve intermediate emission reduction targets and wants to reduce water and plastic consumption, protect biodiversity and share an updated animal welfare policy.
In the coming years Mango also plans to promote social action projects and collaborations with organisations such as Save The Children, the Spanish Red Cross and Médicins Sans Frontières (MSF).
The retailer says three quarters (75%) of its garments have sustainable properties and since 2021, it has prevented the use of 500 tonnes of plastic with its project to replace plastic bags with paper ones for products that leave the factory.
Mango adds that almost all of its cotton (90%) and almost a third (29%) of its polyester are recycled and 63% of its cellulose fibres are of controlled origin.
Mango's three Sustainable Vision 2030 core pillars
Being committed to a more sustainable product
Mango's goal to making a more sustainable product and collection means that by 2030 the Mango product and 100% of the fibres used in its garments will be more sustainable or recycled.
It has an interim 2025 target to use 100% sustainable cotton and recycled polyester and for 100% of its cellulose fibres to be of controlled origin and traceable.
Mango also plans to increase the circular design of its products in the next few years by either producing garments that are easier to recycle, committing to durability or using designs that produce less waste.
The company's circular design strategy is based on three policies to help close the loop:
Give it back to the loop: This aims to create garments with a simpler design, with a single type of fabric or with fewer accessories to allow increased recyclability.
Extended life: This is based on a commitment to design more durable garments with the use of selected materials with physical properties certified by Aitex, reinforced garment construction and a timeless design.
No Waste: This focuses on optimising the materials used and the reincorporation of textile waste. 
Being committed to a more sustainable planet
The four policies to reduce the company's impact on the planet are based on:
Mango aims to achieve net zero emissions by 2050 and has its interim 2030 target, which includes reducing its direct scope 1 and 2 greenhouse gas emissions (GGE) by 80% and its scope 3 greenhouse gas emissions by 35%, in all cases taking 2019 as a base year. These targets have been endorsed by the Science-Based Targets Initiative (SBTi).
Mango plans to reduce its total water impact by a quarter (25%) by 2030.
It wants to optimise and reduce the use of materials and waste throughout its value chain and eliminate or reduce plastic components and packaging with other materials.
Mango's road map is also complemented by Mango's sign-up to the Canopy Style initiative in 2021, which focuses on the protection of forests.
Being committed to people
This pillar includes Mango focusing its efforts on supplier auditing and transparency to ensure the appropriate working conditions are fulfilled for workers in the factories the company works with throughout the world.
Mango also plans to implement training projects focused on providing girls and women access to education in countries such as Bangladesh, India and Pakistan. Plus, in regions such as Europe and the US, it plans to strengthen its ties with universities to promote young people in the job market.
In October, Mango announced its investment in Recovo, a start-up that sells textile waste.