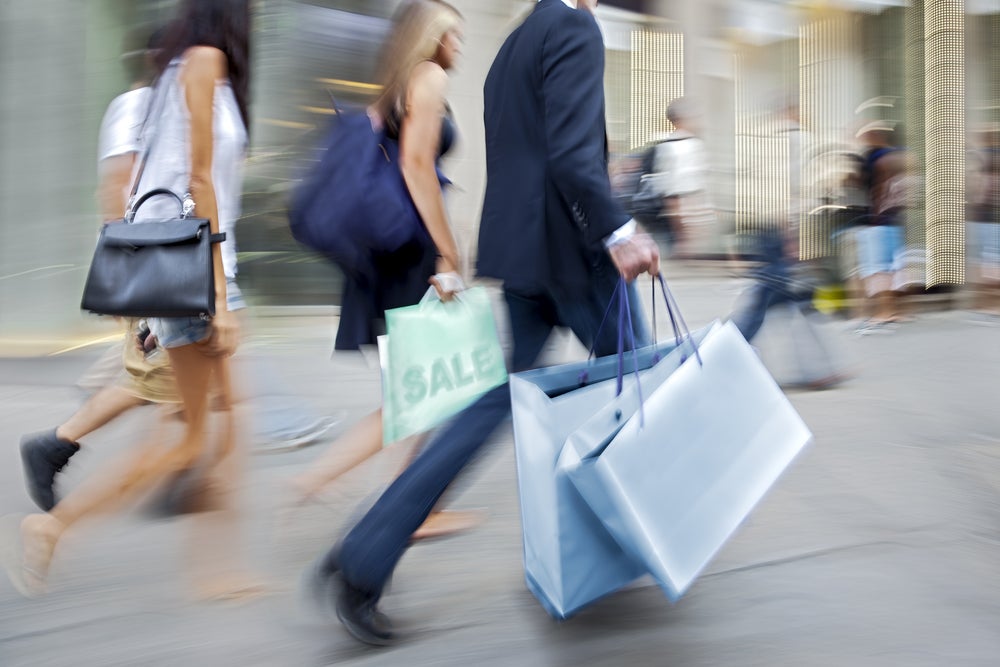 On a month-on-month basis, overall March UK retail sales value also fell by 0.9%.
According to the ONS data for March, on a month-over-month basis, total non-food store sales volumes (total of the department, clothing, household and other non-food stores) fell by 1.3%, following a rise of 2.4% in February, with retailers citing poor weather conditions throughout the month affecting sales.
Meanwhile, department stores and clothing stores sales volumes fell by 3.2% and 1.7% over the month.
Online textile, clothing and footwear stores sales rose 11.3% year-over-year in March in value terms, and on a month-on-month basis, growth was up 4.6%.
Helen Dickinson, chief executive of the British Retail Consortium, said March saw sales volumes fall for the 12th consecutive month. But, she continued: "Despite many consumers tightening their purse strings, they still wanted to celebrate special occasions, and there was particular strong growth in jewellery and cosmetics sales thanks to Mother's Day gifting. Meanwhile, clothing sales were held back by the wet weather in March.
"Retailers are optimistic for the big events on the Spring calendar such as the King's Coronation, and other bank holidays. However, the removal of Government support for household bills from this month will mean consumer discretionary spend will be under additional pressure. We need Government to help retailers keep prices down and shore up consumer confidence by ensuring any additional regulatory burdens are kept to a minimum, as these additional cost pressures will inevitably mean that consumers will be further squeezed."
Also commenting on the figures, Oliver Vernon-Harcourt, head of retail at Deloitte, said:
"The retail sector failed to spring into action in March as wet weather and persistent high inflation deterred consumers from visiting the high street."
He pointed out that as non-food sales continue to fall, it will be crucial in the near future to focus on managing product ranges so that pricing, promotions and variety are all appealing to consumers sensitive to the cost-of-living. This will be key in driving sales and, in turn, avoiding excess stock and working capital at the end of the season."
However, Nick Delis, senior VP of international and strategic business, Five9 suggests there is hope with warm weather and the coronation on the way.
However, he pointed out that price wars and locks are not the be-all and end-all of customer experience right now, and retailers need to deliver more to make customers truly feel valued and inspire loyalty.
EY's UK&I retail lead Silvia Rindone was not surprised by the latest figures.
She said: "The 0.9% decline in retail sales volumes in March was unsurprising as the sustained inflationary environment continues to leave consumers cautious about spending across food and non-food retail.
"Increasing food prices are forcing consumers to make choices to buy less as they pay more. The recent period of poor weather has also put many off from buying their spring-summer wardrobe and other non-discretionary items."
Last month, ONS revealed February retail sales slumped 3.5% year-over-year, but higher inflation meant in value terms, 5.5% more was spent compared with the previous year.