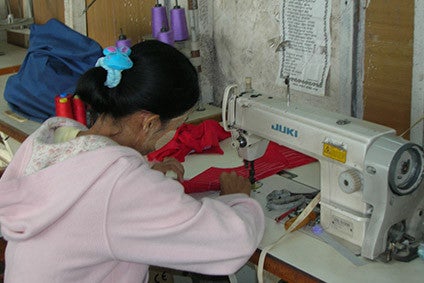 Retailers and brands accounting for around 40% of Myanmar's garment exports – including C&A, H&M Group and Inditex – say they are deeply concerned about the current developments in the country following the recent military coup.
The companies, which also include Bestseller, Esprit, Lidl, New Look, Next, Primark, Tchibo and Tesco, are all members of the ACT (Action, Collaboration, Transformation) initiative on living wages.
"As businesses, we are committed to fully respecting human rights and labour rights in our operations and supply chains, in particular, the right to freedom of peaceful assembly, freedom of opinion, and freedom of association under the Universal Declaration of Human Rights," they say in a statement shared with just-style.
"At this time, our focus is on the workers and employers across the more than 200 factories in our combined supply chains in Myanmar.
"As ACT members, we are working jointly with our business partners and trade union partners in Myanmar towards ensuring full implementation of freedom of association in line with International Labour Standards and the Myanmar Guideline on Freedom of Association.
"We will continue to cooperate with our key supply chain partners to maintain open and effective lines of communication about the status of business operations and future planning in line with the ACT purchasing practices commitments and engage through established ACT dialogue platforms to jointly address industry challenges.
"As global retail brands and trade unions, we are monitoring developments in Myanmar. Responsible business requires a context where fundamental human rights are respected."
ACT is an agreement between global brands and trade unions to transform the garment, textile and footwear industry and achieve living wages for workers through collective bargaining at industry level, freedom of association and purchasing practices.
ACT has been working in Myanmar since 2019, and today's statement is endorsed by the IndustriAll global union and all ACT brands sourcing from the country.
just-style has been following the fallout from the coup at the beginning of February: Clothing sector likely major loser from Myanmar coup.
Clothing industry executives and experts within Myanmar are warning that the country's apparel sector is already suffering because of the coup, when the military seized power and detained Aung San Suu Kyi and other elected leaders: Uncertainty continues to shroud Myanmar's clothing industry.
Global unions and the head of the International Labour Organization (ILO) have already taken a stance against the military takeover, and clothing brands have been urged not to abandon the country's suppliers.