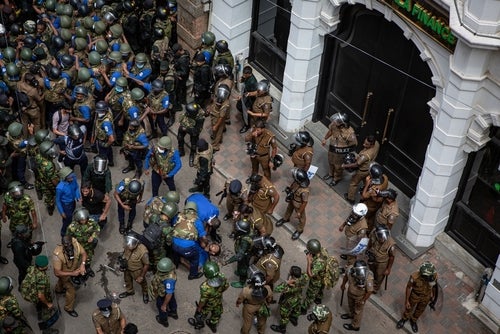 JAAF, which is the trade body association for Sri Lanka's apparel sector, has issued an official statement following the country's civil uprising this weekend (9 July), to reassure apparel brands sourcing from the region the sector will continue to be prioritised.
The statement states that all "plants of the businesses in the association remain unaffected and are fully operational".
This is despite the country's government being in disarray due to a civil uprising caused by the country's worst economic crisis in 70 years.
Sri Lanka's president Gotabaya Rajapaksa has announced he will step down from office on 13 July and Prime Minister Ranil Wickremesinghehas says he is willing to resign and make way for an all-party government to take over. JAAF also points out that to ensure political and economic stability, the party leaders have decided to elect a new President on 20 July.
The organisation supports the changes to government and issued a statement on Saturday (9 July) urging all party leaders to enforce recommendations calling for the resignation of the President and Prime Minister to make way for an all Party Government with elections to be held as early as possible.
JAAF is realistic about the amount of change that will be taking place to the country's politics and wider policy in the coming days and months, but is confident about the resilience of the apparel industry, which is says will continue to be a priority.
The organisation also confirms that despite concerns over ongoing fuel shortages disrupting the sector, there is a continued distribution of fuel and diesel as well as a sustained running of the public transportation system.
In fact, JAAF says: "The plants witness a normal level of staff attendance that remains largely unchanged."
The trade body is keen to highlight the role it has played to support the need of foreign exchange by directly surrendering export proceeds to the government. It says the aim is to clear ships that are arriving with diesel, petroleum, and gas to their best of abilities while continuing to increase exports and export proceeds.
JAAF explains: "The apparel industry's contributions have been widely appreciated by both public and private bodies as well as being recognised as a prominent contributor to the nation's GDP and a resilient sector that has stood strong through a global pandemic and the current economic crisis."
Click here to read Just Style's timeline of events that led to the civil uprising and how it has impacted the apparel sector.