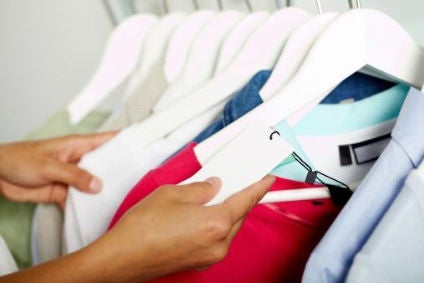 Here are the top stories on Just Style this month:
Exclusive: How H&M Group is using technology to shape fashion's future Swedish fashion retailer H&M Group is hyper-aware of how new technologies hold the key to a bright future within the fashion industry.  A little over a year into his role as chief technology officer (CTO) for H&M Group, Alan Boehme is leading discussions on how technology is not only accelerating huge transformations within the industry, but it is also being used to drive positive social and environmental changes too. Just Style caught up with Boehme ahead of his keynote presentation at next month's Web Summit to discover why technology is so important for the sector's future. 
US footwear industry asks Biden to eradicate tariffs on kids shoes 301 tariffs on children's shoes to be removed in a bid to reduce the massive inflation impacting American families.
Loss of EU GSP would cost Sri Lanka's apparel sector dearly Sri Lanka's apparel sector will suffer heavy economic as well as "social and human" costs as a result of being stripped of the EU's Generalised Scheme of Preference (GSP) trade benefits, says its representative trade body.
French Connection sold in GBP29m deal, founder steps down French Connection has been acquired by a consortium including its second-largest shareholder in a GBP29m (US$39.5m) deal.
Exclusive: H&M Group and Ikea share safe recycled textiles research Just Style speaks exclusively to H&M and Ikea to find out how a large-scale collaborative study on the challenges of chemical contamination within recycled textiles could affect the wider apparel industry.
Fashion NGOs ask EU for sustainability open data principles A number of fashion non-profit organisations (NGOs) have sent an open letter to the EU Commission requesting open data principles in the proposed Corporate Sustainability Reporting Directive and supporting reporting frameworks.
US clothing imports in August see Pakistan shine The relevance of Pakistan as an apparel sourcing hub is fast becoming evident when we look at the latest set of import data published by the US Department of Commerce's Office of Textiles and Apparel (OTEXA), but despite the pandemic severely pressuring supply chains reliant on China, the sourcing giant is holding firmly on to its title as top clothing supplier to the US.
What does the UK autumn budget mean for the apparel industry? The UK's chancellor Rishi Sunak announced the UK Autumn Budget and Spending Review on 27 October 2021. Here is Just Style's round-up of how it could affect the UK apparel industry and beyond.
Can seasonless fashion make it mainstream? The fashion calendar is traditionally split into four seasons: spring/summer; autumn/winter or fall; resort and pre-fall. But the lines are becoming increasingly blurred, with some suggesting fashion is moving into a "seasonless" genre. Hannah Abdulla reports.
The changing face of apparel retail Traditional apparel retail is increasingly giving way to newer models amid disruption from the rise of online, advancements in new technologies, and consumer demands for a more sustainable sector. Fashion brands and retailers were already dealing with the shift to online and consumer calls for greener products before Covid-19 so the future direction of apparel retail was already changing.
US holiday sales tipped to hit new record US holiday spending has the potential to shatter previous records, as the National Retail Federation (NRF) forecasts sales during November and December will grow between 8.5-10.5% over 2020.
Asos, Primark, New Look call for British due diligence law 36 companies, including UK-based fashion retailers Asos, Primark, New Look have released a joint statement asking the UK government to introduce a Human Rights and Environmental Due Diligence (HREDD) law.
Electricity curbs in China send ripples through apparel supply chain Curbs introduced by the Chinese government on the use of electricity within the country have been significantly disrupting the apparel supply chain, creating anxiety among manufacturers even beyond China's borders.
Inditex, Patagonia back new zero-carbon shipping pledge Inditex, Patagonia and Amazon are among a group of brands that have pledged to progressively switch all of their ocean freight to vessels powered by zero-carbon fuels by 2040.
The post-virus global apparel industry: Where to go, what to do and how to do it What to do about the new post-virus global apparel industry is at the top of everybody's to-do list, says apparel industry expert David Birnbaum.
Job loss risk for apparel sector if US pushes Ethiopia out of AGOA Apparel managers and workers in Ethiopia are worried the US may expel their country from the African Growth and Opportunity Act (AGOA) trade access, as armed conflict continues in Tigray.
G20 members urged to enact Xinjiang import bans ahead of summit The Coalition to End Forced Labour in the Uyghur Region is asking world leaders to ban the import of products tainted with Uyghur forced labour, including cotton and yarn, ahead of the G20 summit on 30-31 October in Rome, Italy.
Cloud hiring levels in the apparel industry rose to a year-high in August 2021 The proportion of apparel supply chain companies hiring for cloud related positions rose to a year-high in August 2021 with 76.5% of the companies included in our analysis recruiting for at least one such position.
Peru apparel industry recovers despite political instability The apparel industry in Peru is growing at pre-pandemic levels after a tumultuous first semester fuelled by Covid-19 and a tight and polarised presidential election.
Pakistan to pump US$5bn into 100 new textile units A US$5bn investment is being made into creating 100 textile units in Pakistan which will generate around 500,000 jobs.