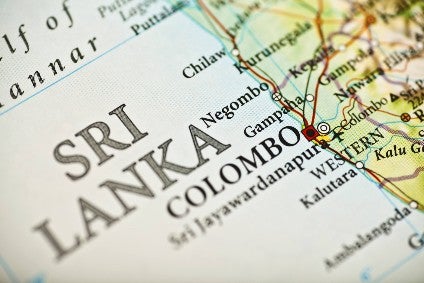 As most of the world focuses on overcoming the Covid pandemic that has raged on for the last two years amid a backdrop of a war in Ukraine and rising inflation rates, Sri Lanka is in the midst of a huge battle of its own due to what is being described as its worst economic crisis in decades.
Dr Sheng Lu, associate professor of fashion and apparel studies at the University of Delaware tells Just Style exclusively that like many developing countries, the export-oriented apparel sector plays a crucial role in Sri Lanka's economy.
He notes Sri Lanka's apparel sector accounts for more than 40% of the country's total exports, and Western fashion brands such as Patagonia, Calvin Klein, NIKE and Ralph Lauren typically source tops, bottoms and jeans from the region, especially for medium-priced items.
However, Dr Lu suggests the country's recent economic turmoil and political instability could negatively affect Sri Lanka's apparel exports.
"Some Western fashion brands and retailers have started to move sourcing orders from Sri Lanka to other nearby countries to mitigate the risks. Also, Sri Lanka's garment production relies on imported textiles heavily. As the financial crisis continues, it becomes increasingly concerning that garment factories in Sri Lanka may not be able to afford to purchase needed textile raw materials and fulfil sourcing orders."
Just Style has been closely following events as the economic crisis in Sri Lanka has developed, analysing what it means for the nation's apparel and textiles sector as well as the impact it could have on global supply chains.
Sri Lanka – a timeline of events
11 July – Sri Lanka president to step down following civil uprising but Sri Lanka apparel sector remains 'unaffected'
Sri Lanka's president Gotabaya Rajapaksa announced his resignation, not long after Prime Minister Wickremesinghe said he would step down following the civil uprising that took place on 9 July.
Despite the government being in disarray, an official statement from the Joint Apparel Association Forum Sri Lanka (JAAF), the nation's apparel trade body organisation confirms the apparel sector is 'unaffected' and will continue to be 'prioritised'.
7 July – Joint Apparel Association Forum Sri Lanka (JAAF) remains hopeful for hitting 2022 export targets
The Joint Apparel Association Forum Sri Lanka (JAAF), which is the trade body representing garment manufacturers in the country commended the sector's resilience in recent months with apparel generating US$446m in May 2022, compared with US$344m in May 2021.
JAAF secretary general, Yohan Lawrence said: "We are still hopeful of achieving the sector's target of US$6bn by the end of 2022, however we acknowledge that there are significant obstacles ahead that we will first have to overcome. It is therefore essential that all possible support is provided to the sector to continue operating.
In addition to ensuring that large manufacturers are able to maintain production, much more needs to be done to prioritise support for SME apparel producers, who are an equally essential component of the industry that is also facing severe challenges in day-to-day operations."
JAAF also explained that despite unprecedented domestic volatility, unstable global market conditions and escalating raw material and logistics costs, the nation's apparel sector has provided extraordinary support to the national economy, including direct surrender of export proceeds to the Government.
6 July – Sri Lanka 'should lean on apparel sector' to tackle bankruptcy
As reports circulated that Sri Lankan prime minister, Ranil Wickremesinghe, was declaring the country 'bankrupt,' Global Data's sourcing analyst Louise Deglise-Favre told Just Style now is the time for the country to lean on its most successful export industries, such as apparel.
Meanwhile, the Foreign, Commonwealth & Development Office (FCDO) issued advice against all but essential travel to Sri Lanka, due to the impact of the current economic crisis.
4 July – Sri Lanka fuel shortage adds to garment exporter woes
A fuel shortage in Sri Lanka caused concern among apparel exporters, already under pressure as a result of the economic crisis. Sri Lanka's energy minister, Kanchana Wijesekera, issued a warning over the country's fuel stocks saying there was only enough petrol left for less than a day under regular demand, with the next shipment not due for another two weeks.
28 June – Sri Lanka's economic revival will be built on export industries says JAAF chairman
JAAF chairman Wilhelm Elias explained why the foundations of Sri Lanka's economic revival, following its national crisis, would need to be built on its successful export industries, such as apparel. Through numerous crises, Elias said, companies have built an apparel industry around Sri Lanka being a reliable sourcing destination for both product and quality.
17 June – Calzedonia president: "We believe in Sri Lanka's resilience"
One leading fashion manufacturer was keen to share that his company planned to increase its sourcing within Sri Lanka. Sandro Veronesi, president of Italian fashion group Calzedonia, told Just Style he had faith in the resilience of Sri Lanka's apparel industry and laid out plans to increase sourcing from the South Asian island nation.
14 June – Financial losses loom for Sri Lanka apparel sector
The export earnings in Sri Lanka's clothing sector for the June to August period were reported to be set to fall by 20-25%, with the sector likely to miss its US$6bn export target for the year, as the country's political and economic crisis continued.
12 May – Sri Lanka announces a new prime minister
Sri Lanka announced Ranil Wickremesinghe as Prime Minister amidst extreme inflation rates and daily power cuts. Gotabaya Rajapaksa appointed the senior opposition MP as new prime minister of a proposed cross-party government in a bid to defuse protests over his handling of the severe economic crisis.
Meanwhile, Sri Lanka's clothing export sector was facing economic and political chaos as an imposed a state of emergency continued. Foreign currency reserves collapsed to below US$50m and protests continued. With annual inflation now exceeding 29% (up from 18.7% in March) and rolling daily power cuts of at least three hours amidst fuel shortages, clothing manufacturers, started to suffer.
March 2022 – Experts question how long the Sri Lanka apparel sector could protect itself from national crisis?
Mass protests demanded the resignation of President Rajapaksa over its worsening economic crisis, and a state of emergency was imposed. The UN High Commissioner for Human Rights accused the government of a "drift towards militarisation", while economists argued the crisis was the culmination of years of corruption by subsequent governments and wrong policy decisions.
February 2022 – JAAF reiterates warning over Sri Lanka GSP+ loss
Sri Lanka was reported to be looking at global garment exports of US$8bn by 2025, according to targets released by the JAAF industry trade body at the time. The new target came as the country's apparel export earnings for January 2022 rose to US$487.6m, the highest in five years.
But, JAAF warned of the wider economic impact of the Generalised Scheme of Preferences (GSP+) loss. According to official statistics for 2021, the EU was Sri Lanka's single largest export market for 2021, accounting for nearly a quarter (24.1%) of the latter's total merchandise exports of US$11.1bn.
January 2022 – Sri Lanka apparel industry shows resilience during Covid pandemic but sector shares concerns over foreign exchange crisis
After a tumultuous 2021, the Sri Lankan apparel industry seemed to have shown remarkable resilience. Progress was made possible by an accelerated Covid vaccination programme with the support of the government and the logistical capability of the military. Outgoing chairman of JAAF, A Sukumaran, wrote the association had played a crucial coordinating role.
However, JAAF was already sharing its concerns over the current forex (foreign exchange) crisis that had led to inflation reaching record levels, and asking for dialogue and stakeholder collaboration, as well as legislative reform for a more sustainable trajectory for its apparel industry.
2021 – Sri Lanka apparel garment exports rise
Sri Lanka Apparel garment exports jumped back up by 21.5% at September-end to US$3.54bn.
2020 – Sri Lanka's garment exports decline
During the peak of the pandemic, Sri Lanka's garment exports declined sharply; nationally enforced lockdowns hit production, and order cancellations were high. Exports fell by almost a quarter (more than 24%) to US$3.93bn.