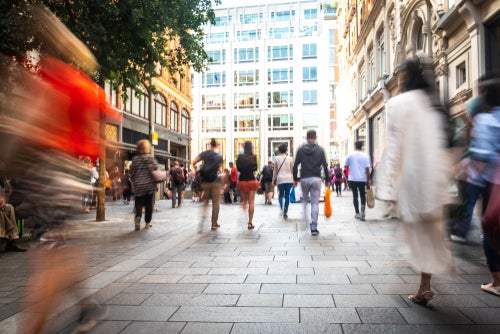 The three-month period leading up to April 2023 also showed encouraging signs, with sales volumes increasing by 0.8% compared to the previous three months. This growth rate marks the highest recorded since August 2021, suggesting a strengthening retail landscape.
Earlier predictions by Trading Economics had projected a 0.3% rise in retail sales, indicating that the actual growth of 0.5% surpassed expectations.
According to the ONS data for April, on a month-over-month basis, total non-food stores sales volumes (total of the department, clothing, household and other non-food stores) rose by 1.0% in April 2023, following a fall of 1.8% in March when poor weather conditions throughout most of March affected sales.
Meanwhile, department stores sales volumes rose by 1.7% following a fall of 3.0% in March 2023 and clothing stores sales volumes rose by 0.2%.
Non-store retailing (mainly online retailers) sales volumes rose by 0.2% in April 2023, following a fall of 1.4% in March 2023 with online textile, clothing and footwear stores seeing a 0.2% increase in sales in value terms compared to March.
Commenting on the positive developments, Charlie Huggins, manager of the Quality Shares Portfolio at Wealth Club, said:
"No one is going to look at these figures and claim consumers are feeling flush. But at the same time, the cataclysmic predictions for the UK economy in 2023 are proving very wide of the mark.
"Results from retailers themselves back this up. Earlier this week M&S reported a relatively upbeat trading update, while results from the likes of Next and Primark also show little evidence of a significant slowdown in consumer spending."
However, Silvia Rindone, EY UK&I retail lead reported that EY-Parthenon's recent Profit Warnings analysis found that almost 30% of UK-listed retailers have issued two or more profit warnings since the start of 2022.
"Consumers are continuing to make more considered decisions about how they spend their money, which, when combined with persistently high price inflation, is creating a challenging environment for retailers," said, Rindone.
Oliver Vernon-Harcourt, head of retail at Deloitte suggested the Easter Bank Holiday weekend likely contributed to the increase in consumer spending more in department stores and on clothing and accessories.
Vernon-Harcourt added: "The economic environment remains incredibly tough for many, but consumer confidence is slowly improving from record lows seen in the past year."
Nick Delis senior VP of international and strategic business at Five9 pointed out that retailers should capitalise on the weather change as shoppers are starting to feel more comfortable spending as inflation begins to wane and energy bills are set to lower in July.
He said: "Retailers need to think outside the box; lower price points can attract more sales in the short-term but aren't necessarily the secret ingredient to brand loyalty. One poor interaction can turn a customer away for good, and they won't hesitate to tell others about their experience – regardless of whether an item is cheaper."
Steve Ponting, director of Software AG agreed with Delis but also emphasises the importance of streamlining processes to improve customer experiences.
He said: "What we're seeing are hyper-sceptical consumers who look for more than price value in their purchasing decisions, and they are more than ready to do away with brands who disappoint. We've recently seen retailers such as Boohoo attribute a loss in revenue due to a lack of awareness of consumer trends, like the return of the high street.
"Finding micro-efficiencies in sourcing, supply chain, logistics, and in-store processes can help retailers save on operating costs and build customer loyalty in the long term. Identifying them can be difficult, so retailers need to connect all data streams and eliminate silos, so they have one central and accessible place for all their data. From there, they can better plan inventory and stock ordering, as well as make the right decisions for their customers. At a time when budgets are constrained, now is the time for businesses to make a change."
Last month, ONS revealed the UK's retail sales volumes fell 0.9% following a rise of 1.1% in February 2023.