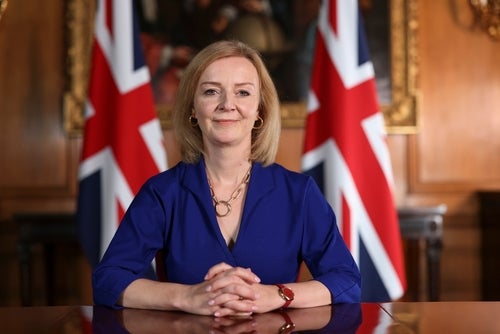 Liz Truss was named the UK's new Prime Minister yesterday (5 September) amidst a cost of living crisis and rising energy bills that are affecting both garment manufacturers and apparel retailers.
In her opening speech as the UK's new Prime Minister she said: "I will deliver on the energy crisis dealing with people's energy bills but also dealing with the long-term issues we have on energy supply."
The UK Fashion and Textile Association (UKFT)'s CEO Adam Mansell says his organisation welcomes the announcement about the new Prime Minister Liz Truss, in this pivotal time for UK fashion and textiles.
He explains: "In particular at the moment, businesses of all sizes need support to weather the energy crisis, on top of the well documented international trade and logistical challenges."
In fact, he says many of his organisation's manufacturing members are reporting five to six-fold increases in energy costs and this is an issue that impacts all parts of industry, as well as consumers' ability to spend.
He adds: "In order to survive and grow, it is essential that the sector strengthens its sustainable competitiveness. This means a fundamental change and one that needs to be delivered at pace. It will call for new skills and new jobs so we look forward to working with the new Prime Minister to make that happen."
Last month the UKFT warned UK clothing manufacturers would face significant challenges as energy bills look set to surge again, with many unable to pass on the cost to consumers.
The Fashion-workers Advice Bureau Leicester's (FAB-L) Tarek Islam makes the point that regardless of who is in charge, if those in power do not do something about rising living costs, the UK's garment workers will be left even more vulnerable and in even more poverty.
He says: "The more the living costs rise the more the most vulnerable will be affected. Garment workers are amongst the most vulnerable groups of people, many of whom have been living in poverty for many years. How much more poverty and pressure can they handle?"
He continues: "On one hand, it's said the energy and fuel prices are very high due to lack of supply, on the other hand, there are reports of fuel and energy companies making billions of pounds of profits. The number of universal credit claims has now doubled according to some civil rights groups, but why are the taxpayers having to pay for the rising costs when private corporations are making billions?"
The UK announced on 26 August that a domestic energy bill rise to GBP3,549 (US$4202) per year would take place from 1 October with no caps for apparel factories or retailers. A GlobalData analyst said at the time the apparel spend would be reduced and some retailers would struggle with overheads, which could restrict growth for the sector.
The European Textile Industry Association (Euratex) is urging a unified strategy to tackle the energy crisis and believes there is a risk of entire segments of the textile industry disappearing which could lead to widespread company closures and job losses.