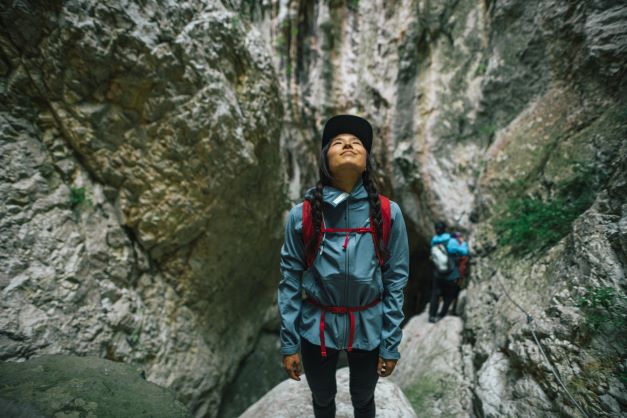 Spinnova and The North Face have signed a development agreement to create sustainable materials that will deliver the specific performance required for outdoor apparel.
Spinnova claims the timing is perfect for the partnership because the demand for global textile material is estimated to be as high as 146 million tons annually by 2030. Plus, the outdoor apparel industry is experiencing high growth.
The aim of the partnership is to reduce the environmental impact of the outdoor apparel industry and offer consumers a sustainable yet performance-driven alternative to conventional textile materials.
Spinnova explains its technology makes textile fibre out of wood pulp. It is produced without harmful chemicals, minimal water usage and minimal CO2 emissions, no microplastic and it is completely circular.
Spinnova CEO and co-founder Janne Poranen says: "The North Face is a leader in sustainable outdoor apparel. This is a great opportunity for us to continue pushing the limits of our material together with The North Face. Our goal is to set a new standard for the industry in sustainability and high performance."
The North Face global VP, product development, Oliver Lang adds: "It's our over-arching goal to build more circular products, constantly develop innovative materials and to further reduce the environmental impacts of our products. Spinnova is the ideal partner on that journey."
Spinnova's long term business target includes reaching one million tonnes of annual Spinnova fibre production capacity in the next 10-12 years.
In February, Spinnova revealed it had entered into a 50:50 joint venture with wood pulp producer Suzano to begin construction of a EUR22m (US$27m) factory that would allow it to scale production of its sustainable bio-based fibre.
The factory is expected to begin operating by the end of 2022 and by 2031 Spinnova plans to produce at least 1 million tons of textile fibre each year, which is equal to 4% of the global cotton capacity, making the sustainable fibre a commercially viable option for global brands such as The North Face.
Earlier this year Just Style reported that The North Face was taking its sustainability efforts to a new level by introducing regenerative cotton farming into its supply chain.