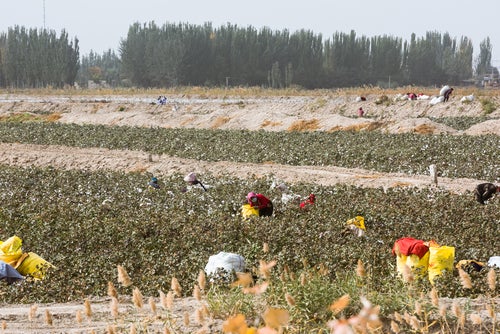 Here are this week's top trending stories on Just Style:
UK authorities faced a court hearing on 25 and 26 October following claims from campaigners that the UK had failed to block Xinjiang cotton imports potentially made with forced labour and a lawyer in the case summarises the trial for Just Style exclusively, saying the apparel industry giants could be investigated and prosecuted in the criminal courts if ruled guilty.
Türkiye's İstanbul Apparel Exporters' Association (IHKIB) reveals why the country is so highly regarded as a nearsourcing apparel supplier to Europe and refutes the allegations made in a recent report on modern slavery.
People for the Ethical Treatment of Animals, PETA, has warned the UK's Ministry of Defence it will take legal action over its continued use of bearskins despite the animal rights group providing a faux fur option.
Bangladesh's readymade garment and apparel sector could experience negative growth of 20% in October as exports continue to wane in demand due to global macroeconomic challenges.
The devastating floods in Pakistan have affected some 40% of the country's annual cotton crop, new reports have found.
Textile Recycling Excellence (T-REX), is a new EU-funded project consisting of 12 players from across the entire recycling value chain that aims to create a circular system for post-consumer textile and fashion waste.