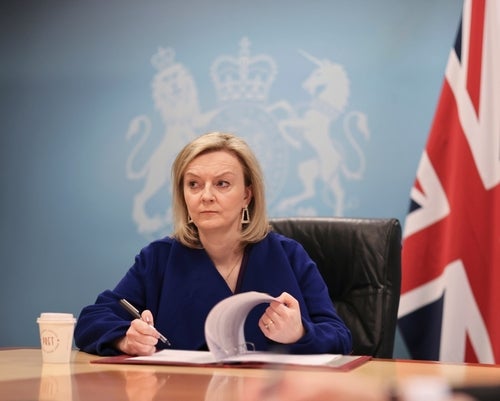 Last week, the UK's new Prime Minister Liz Truss announced she would freeze energy bills for consumers at GBP2,500 (US$2928.62) per year average for two years starting from 1 October under the "energy price guarantee". The plan is part of a support package that will replace the existing Ofgem energy price cap that was due to reach GBP3,549 from the same date.
Businesses and public sector organisations will have a new-six month scheme offering what is being described as "equivalent support", according to The Guardian, however GlobalData apparel analyst Pippa Stephens tells Just Style she is sceptical about whether the energy plan will benefit the UK's apparel sector.
She says: "While the announced cap on energy bills as part of the plan will be a relief for consumers across the country, prices will still be much higher than prior years, as will the cost of other essential goods like food, causing discretionary income such as apparel to remain dampened."
Stephens points out that this, alongside weak consumer confidence, will result in non-essential categories like apparel continuing to be hit hard, with apparel spend falling notably in Q4, to significantly behind pre-pandemic levels.
The detail on the business aspect of Truss' plan is limited and Truss is expected to provide more information next week once the period of national mourning for Queen Elizabeth II is over.
In the meantime, The Guardian suggests the business intervention will subsidise the wholesale price of gas. After the end of the six months, there is expected to be ongoing support for "vulnerable industries," which is likely to include hospitality venues such as pubs.
Last week, the UK Fashion and Textile Association told Just Style it was calling on the UK's new Prime Minister to support apparel businesses with the energy crisis and deliver new skills and jobs for the wider apparel sector.
At the time, Fashion-workers Advice Bureau Leicester's (FAB-L) Tarek Islam made the point that garment workers are amongst the most vulnerable groups of people, many of whom have been living in poverty for many years. He said: "How much more poverty and pressure can they handle?"
The European Textile Industry Association (Euratex) is calling for a unified strategy to tackle the energy crisis and believes there is a risk of entire segments of the textile industry disappearing which could lead to widespread company closures and job losses.