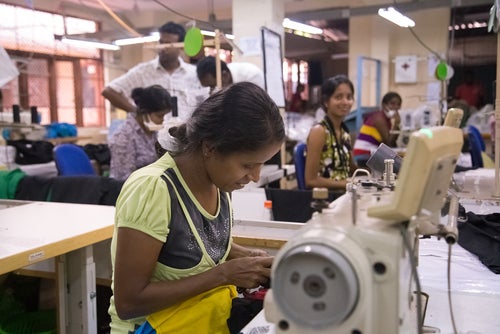 This year has undoubtedly been an uphill struggle for Sri Lanka and last week the country's central bank governor added an extra blow by saying it could have avoided its current economic turmoil if it had gone to the International Monetary Fund (IMF) for a bailout sooner.
Sri Lanka is seeking US$5bn this year in support from the international community, including the IMF, and the BBC has reported the country defaulted on its foreign debt for the first time in its history last month.
The story is not any brighter for Sri Lanka's apparel industry with Sri Lanka's Joint Apparel Association Forum (JAAF) secretary-general Yohan Lawrence telling Just Style its clothing exports are expected to fall by a quarter in the June to August period this year.  
He says the organisation is pressing the government to start discussions with credible policy and industry experts towards rapid development of a practical, apolitical 'Roadmap for Sri Lanka's Economic Recovery'. However, he points out that despite there being ongoing efforts to get bilateral funding, it is nowhere near enough.
Arguably, the saving grace for Sri Lanka's apparel sector will be the loyal brands and manufacturers that continue to source apparel from the South Asian island.
The president of Italian fashion brand Calzedonia has, for example, announced plans to increase sourcing from the country during these challenging times.
Sandro Veronesi says in an interview he has faith in Sri Lanka's ability to adapt and believes maintaining its sights on the future will help the nation to overcome this crisis.
Elsewhere on the apparel sourcing front, the US continues to concentrate its efforts on nearshoring, so we could see central American nations such as Honduras prosper in future.
In fact, Pedro José Barquero Tercero, the Secretary of Economic Development for Honduras suggests the country's proximity to the US and its qualified workforce are already making it an increasingly attractive option for US-based apparel companies.
Financial losses loom for Sri Lanka apparel sector
Export earnings in Sri Lanka's clothing sector for the June to August period are set to fall by 20-25%, with the sector likely to miss the US$6bn export target for the year, as the country's political and economic crisis continues unabated.
Calzedonia president: "We believe in Sri Lanka's resilience"
 Despite the economic crisis Sri Lanka finds itself in today, Sandro Veronesi, president of Italian fashion group Calzedonia, has faith in the resilience of Sri Lanka's apparel industry and plans to increase sourcing from the South Asian island nation.
How to hone apparel sourcing hotspot Honduras' potential
 Pedro José Barquero Tercero, the Secretary of Economic Development for Honduras, explores how the country has the potential to become a forerunner of economic prosperity.
H&M Group, Norrøna under fire in Norway over environmental claims
Norway's consumer watchdog has issued warnings to clothing retailers H&M Group and Norrøna over what it deems "misleading environmental claims", adding their use of the Higg Index is insufficient as a tool to support their environmental claims.
Most read this week
Sourcemap unveils Forced Labor Compliance Platform to tackle Uyghur law challenges
Shein commits US$50m to beat textile waste
Biden signs Ocean Shipping Reform Act into law
H&M Group winds down Treadler supply chain initiative 
UK Government applauds ten-year sustainable fashion plan
Bangladesh garment makers count the cost of deadly fire – in money and reputation
Global Fashion Summit: Copenhagen Edition – Key takeaways