Inspectorio aims to build an interconnected, sustainable, and transparent supply chain via a cloud-based Software-as-a-Service (SaaS) solution across supply chains worldwide.
Production across the global supply chain has traditionally operated on manual and disconnected processes, minimising collaboration and efficiency. Strong working relationships between retailers, suppliers, and factories, as well as the coordination that needs to occur between these stakeholders to ensure the successful production of goods is currently happening in silos.
Inspectorio offers a holistic platform to incorporate quality, compliance, and production tracking while leveraging machine learning to take a proactive versus reactive approach.
Innovative software for supply chain management
The Inspectorio solution aims to assist the working relationship between companies and their supply chains to accomplish operational excellence.
Inspectorio Tracking helps to accelerate production tracking workflows, from purchase order to delivery.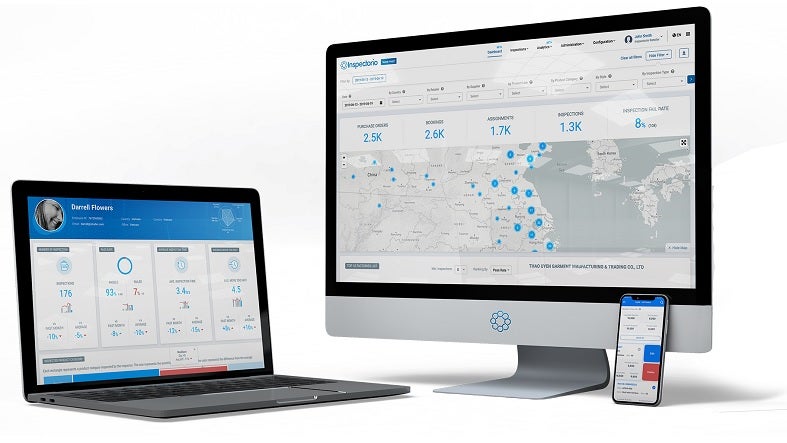 Inspectorio Sight allows companies to build better collaborations with partners while providing increased visibility across the supply chain.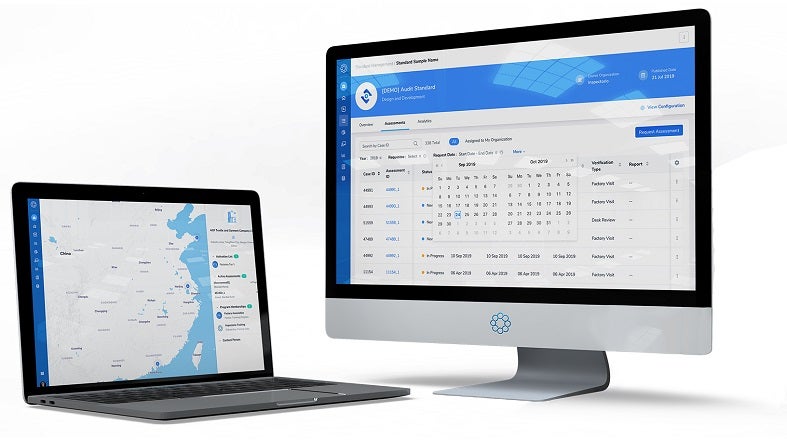 Inspectorio Rise enables companies to manage audit and compliance activities from a central command hub.
The platform provides quality management software to automate operations and prevent issues before they arise; compliance management software to seamlessly manage all components of a company's sustainability programme; and production tracking software to avoid supply chain delays and improve delivery performance.
As a SaaS platform, Inspectorio facilitates a network that has already helped some of the largest brands, retailers, and manufacturers in their journey toward digitisation, transparency, and efficiency.
Our technology empowers retailers, brands, vendors and factories to optimise their quality, sustainability, and compliance operations by leveraging machine learning to transition from reactive interventions to a proactive, preventative approach to supply chain management. Inspectorio has more than 7,000 customers, including some of the world's largest brands and retailers such as Target, Crocs and Carter's.
Now more than ever, the market is embracing the future of digital operations, and companies have accepted digitisation as a necessary requirement, particularly due to the Covid-19 pandemic. Many firms digitise in silos, but Inspectorio helps them achieve this holistically across production chain functions. We also improve performance management in the production chain by connecting suppliers, teams, and functions under a single platform.
Integrated production monitoring capabilities
With a solutions portfolio that includes Inspectorio Sight, Inspectorio Rise and Inspectorio Tracking, Inspectorio helps digitise quality, compliance, and production tracking activities by removing data silos and combining all activities onto a single platform.
With powerful automation and actionable insights, it allows real-time data and reporting across all these activities, enabling companies to have a predictive approach to quality, compliance and production tracking.
By integrating quality, compliance, and order tracking, as well as bringing supply chain organisations together under a network platform, the possibilities to automate manual tasks, manage risk, and obtain a higher return on investment (ROI) become endless.
Inspectorio will continue to invest in solutions to address customers' operational challenges.
Key features of Inspectorio solutions
Inspectorio's platform offers an array of features to facilitate production supply chain management.
These features include the ability to:
Communicate with stakeholders on a single platform to eliminate complexity and inefficiency in communication. Obtain real-time updates about quality inspections, compliance and sustainability audits, and production milestones
Digitise quality, sustainability, and production monitoring data to analyse it and access data insights. Instantly receive reports and updates from your factories and suppliers.
Leverage data analytics for decision-making – Inspectorio's powerful data analytics allow you to make more accurate data-driven decisions, as well as proactive and risk-based interventions, to ensure companies direct resources toward mitigating high-risk areas in the supply chain
Leverage powerful automation rules to eliminate low-value, manual interventions and enable available resources to invest in activities that increase return on investment.
Empower your teams on the ground with mobile capabilities to easily conduct inspections and audits. Your team will have access to all the information they need at their fingertips, and you will receive immediate updates through mobile connectivity.
Collaborative supply chain optimisation processes
The Inspectorio platform empowers teams to focus on high-value-added activities by eliminating manual tasks and saving time, which allows companies to allocate freed-up resources for performance optimisation.
This is one of the benefits of the Inspectorio platform. Others include:
Take advantage of supply chain network dynamics to increase alignment between key stakeholders to optimise operations
Increased visibility in the production chain
Leverage objective and real-time supplier performance data to generate unbiased and efficient decisions.
A sustainable, error-free production chain
Get ahead of competitors by leveraging digital technologies that enable users to immediately react to critical events using artificial intelligence and machine learning technologies.
Continuous improvement in supply chains
Use objective data to identify areas of opportunity and introduce improvement programmes to help build frictionless supply chain operations.
About Inspectorio
Inspectorio was created by Carlos Moncayo, David Klein, Fernando Moncayo and Luis Moncayo to optimise production chain management.
When the company started in 2016, it focused on the digital transformation of quality inspections across global supply chains. After getting little or no visibility due to the slow process of quality management, the founders ventured to bring out this great solution and succeeded in it.
Now, Inspectorio has more than 250 employees, spread across the USA, Ecuador; China; Vietnam; and working remotely from over 15 countries.