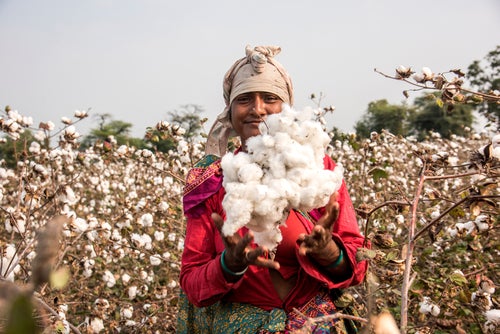 Better Cotton, which describes itself as the world's largest cotton sustainability programme, has revealed that as part of its involvement with the Clinton Global Initiative (CGI), which convenes global and emerging leaders to create and implement solutions to the world's most pressing challenges, it is introducing a solution to encourage more sustainable agricultural practices.
The announcement was made yesterday (19 September) as part of Better Cotton's Commitment to Action at the Clinton Global Initiative 2022 Meeting.
Better Cotton CEO Alan McClay explains: "We are pleased to be a part of the CGI community. This will amplify our work with smallholder farmers, and ultimately help us achieve our goals of enabling farmers to profit from implementing more sustainable practices in cotton growing. It will also allow us to further build the business case for traceability up and down the supply chain and enable brands to have more insight in to who grows the cotton in their products."
CGI works with partners to drive action rather than directly implementing projects. It facilitates action by helping members connect, collaborate, and develop commitments to action with new, specific, and measurable plans that address global challenges.
As part of the initiative, Better Cotton is working with smallholder farmers to create an insetting mechanism that promotes and incentivises sustainable agricultural practices.
The organisation commits to developing a cotton-specific carbon insetting accounting framework to be integrated into the Better Cotton traceability platform, which is due to launch in 2023 and will provide the backbone for the insetting mechanism.
Once implemented, the insetting mechanism will enable retail companies to know who grew their sustainable cotton, and allow them to incentivise farmers directly with credits.
Better Cotton points out that until now, it has been impossible to build a carbon insetting mechanism to reduce greenhouse gas (GHG) emissions in the cotton supply chain at scale.
Better Cotton says farmer centricity is a key pillar of its work, and this solution ties into its 2030 Strategy, which lays the foundation for a strong response to climate threats within the cotton value chain, and mobilises action for change with farmers, field partners and members.
In June, Better Cotton revealed it made up around 20% of global cotton production in 2021, a 25% fall on the 2019-20 season on the back of challenges, including weather variations, market conditions and socio-political issues.
In the first half of 2022, 192 retailers, brands, suppliers, manufacturers and civil society organisations joined Better Cotton's membership, including apparel retailers Macy's and JCPenney.