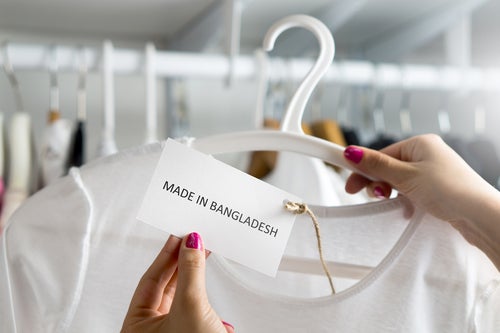 Just Style will share a number of exclusive reports and interviews from both Made in Bangladesh Week and the International Apparel Federation's World Fashion Convention in the coming weeks, which was also attended by key decision makers, including politicians, leading garment manufacturers and key brand and retail sourcing executives from around the world.
It was a week of hope and inspiration for Bangladesh's future as it approaches the end of its LDC status and almost a decade on from the Rana Plaza tragedy, which had previously cast a shadow on its garment sector.
Today, leading brands and retailers are proud to be partnered with Bangladesh and the country boasts being the world's second largest garment exporter.
Its ultimate goal is to take the top spot from China by becoming the go-to sourcing destination for those wanting sustainable, ethically-made and added value fashion garments.
In fact, eight out of the world's top ten LEED (Leadership in Energy and Environmental Design) certified garment factories are in Bangladesh – a statistic that was quoted regularly throughout the event – and it has almost half of the world's top 100 LEED-certified factories (48) with hundreds more in the pipeline.
Made in Bangladesh Week's organisers also invited Just Style to visit the country's leading green garment factories and witness first-hand the remarkable progress that is being made.
There's no doubt about it – the investments are immense and go beyond environmental responsibility as the factories also have staff training centres, daycare centres for their children and healthcare centres for both staff and their families.
The tagline for the International Apparel Federation's World Fashion Convention, which was timed perfectly to sit in the middle of Made in Bangladesh Week was: 'Transforming fashion together'.
This tagline is arguably the missing part of the puzzle for Bangladesh's garment manufacturers. The green manufacturers are clearly making the changes that brands, retailers and consumers all want but the elephant in the room was who will pay for the environmental and social responsibility in the long-term to make the sector better for everyone?
The brands and retailers present at the event were clearly proud to have 'Made in Bangladesh' tags on their clothing and repeatedly spoke about having true 'partnerships' with Bangladesh as it continues to embark on its impressive transformation.
The cost of living crisis, however, is making it a difficult time for brands and retailers to talk about the delicate topic of 'money' and potentially adding an additional dollar or Euro to a consumer's end price amid rising inflation. 
Is it time for Bangladesh to take matters into its own hands and share its green branded transformation directly with consumers?
Consumers want sustainable fashion and if they understand it may cost an extra dollar or Euro per garment to achieve this perhaps brands and retailers won't be so afraid to raise their prices for the benefit of all – our people and our planet.
Bangladesh apparel sector targets 10% market share by 2025
Bangladesh, the world's second-largest garment exporter, is eyeing a 10% share of the global apparel market by 2025.
H&M under fire in US over sustainable material claims
A proposed class action lawsuit in the US is alleging H&M is greenwashing via the sustainability claims made in its Conscious Choice range.
Buying less and buying better is key to sustainability in fashion
Sustainability and fashion – two words which are becoming increasingly intertwined each and every day writes Lisa Griplas, The Woolmark Company's global sustainability communications strategist.
INTERVIEW: Reshaping the fashion supply chain during a cost of living crisis
Nikki Baird, vice president of strategy at retail technology provider, Aptos, reveals how brands and retailers can streamline the fashion supply chain to reduce delivery times and wastage, and ultimately boost sales during the cost of living crisis.
Most read on Just Style this week…
Joules appoints administrators to wind up company
How fashion for Gen Z will rely on AI and big data
US customs pauses ACE forced labour change on 'industry concerns'
H&M, Inditex among brands committing to source alternative fibres
Gap Inc partners with Amazon Fashion in US and Canada
Apparel sector loses US$15.3bn in supply chain waste – report
Komar Brands builds US presence with new facility
Just Style to speak at Made in Bangladesh Week's Dhaka Apparel Summit