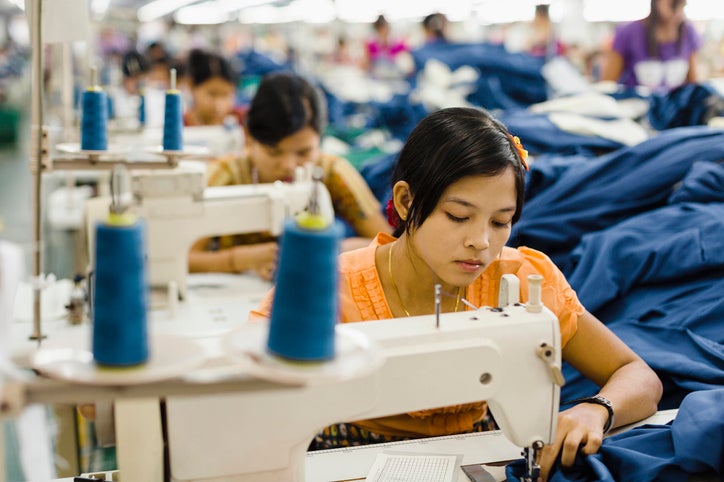 International Women's Day has become a go-to platitude and marketing strategy for corporations hoping to reassure their customer base that their company is investing in women's rights.
Fashion retailers are front and centre with this approach at every level, as demonstrated by GAP's recent quarterly financial report. An accompanying statement weaved inspirational language into the announcement of GAP's sportswear brand Athleta's CEO Mary Beth Laughton's departure: "[We] thank Mary Beth for her leadership and commitment to igniting the limitless potential of women and girls."
Because of this noise, it's easy to forget the origin of International Women's Day as we know it is linked to striking US textile workers in the early 1900s. The fashion industry supply chain and women's rights are intricately connected.
Marketing strategies aside, it's concerning to still see issues of structural gender inequality within fashion sourcing as the industry arguably makes eye-watering profits at the expense of its female workers.
A recent example was the announcement that Bangladesh, a key apparel sourcing country, beat its target for garment export growth. However last week, a new study by the Ethical Trading Initiative claimed there is a significant decline in the number of women in Bangladesh's ready-made-garment industry. The reasons were attributed to poor working conditions, including harassment, violence, long working hours, and low salaries
This was echoed in a case filed last week against Nike, which alleges that since March 2020, garment workers in the company's supply chain have experienced labour abuses that include gender discrimination. The Asia Floor Wage Alliance said that NIKE's gender pay gap also increased.
These examples demonstrate that company profit is being prioritised over workers' rights, and arguably female garment workers are being hit hardest. It is also essential that the fight for gender equality is intersectional, taking into account race as well as gender. Additionally, this fight doesn't have to come at the cost of focusing on other broader industry issues such as sustainability. Rather, what needs to be recognised is that these structural issues are interconnected.
While such mounting issues of gender inequality can seem insurmountable, there is still positive change.
Bangladesh garment factory, 4A Yarn Dyeing Ltd, for example, which Just Style visited in November last year, has an on-site medical centre for its employees and their families and a children's day care centre.
Plus, for International Women's Day, Just Style highlighted three women who are accomplishing real change in the fashion sourcing industry.
There's a long road ahead, but gender equality in fashion sourcing can be achieved through transparency throughout the entire supply chain and compassionate working conditions.
Other stories on Just Style this week…
WEEK IN REVIEW: Sustainable action soars as apparel industry attempts to make amends
As apparel brands and retailers focus on sustainability, more apparel is being made from recycled fabric and some brands are even developing what is being described as 'revolutionary fibres'.
Authentic Brands Group 'interested' in acquiring Hunter
Authentic Brands Group (ABG), the company behind the Reebok and Ted Baker brands, is said to be among the suitors interested in acquiring footwear firm Hunter Boot.
Gap Inc focuses on savings following 'bland retail' performance
Gap Inc's most recent financial results offer a "bland retail" performance, according to GlobalData analyst Neil Saunders with the Athleta and Banana Republic owner reporting an operating loss of US$69m.
Türkiye clothing makers must push quality and 'true' sustainability to compete with Asia says Yesim CEO
Senol Sankaya, CEO of Türkiye clothing manufacturing giant Yesim Group, tells Just Style it is impossible to compete with Asia on price but quality and speed are where Turkey shines.
Adidas reveals 'disappointing' FY amid poor China performance
German sportswear giant adidas saw its share price drop this morning (8 March) after revealing what analysts have described as "disappointing" full-year results on the back of a "catastrophic" performance in China.
Nike under fire as unions allege OECD guidelines 'breach' in supply chain
Nike has been accused of breaching OECD Guidelines with regards to the treatment of workers in its global supply chain following the Covid-19 pandemic.
Cambodia garment workers impacted by crisis to receive financial aid
Cambodia's Ministry of Labor (MOL) is implementing a scheme in partnership with garment factory owners to provide financial allowances for workers impacted by the economic crisis.
PETA urges H&M to produce duck down sourcing report
Animal campaign group, PETA, has asked Swedish fashion retailer, H&M, to produce a report detailing how it sources duck down following claims that inhumane slaughter methods were used by a previous duck down supplier.